LOS ANGELES -- Kobe Bryant scored a game-high 40 points to help the Los Angeles Lakers beat the Houston Rockets 111-98 on Wednesday and level their Western Conference semi-final series at 1-1.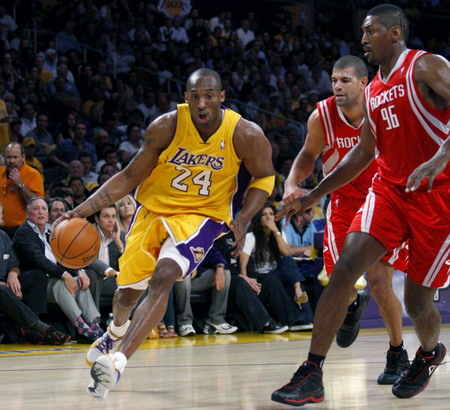 Los Angeles Lakers guard Kobe Bryant drives to the basket past Houston Rockets forward Shane Battier and Ron Artest during the first half of Game 2 of their NBA Western Conference semi-final basketball playoff game in Los Angeles, May 6, 2009. [Agencies]
Stung by their surprise 100-92 homecourt loss on Monday, the Lakers shrugged off a spirited Rockets display in the second quarter with Bryant the best player of the night in a heated contest.
Spanish forward Pau Gasol contributed 22 points and 14 rebounds while veteran guard Derek Fisher weighed in with 12 as the Lakers took control after half-time at a packed Staples Center.
Houston forward Ron Artest top-scored for the visitors with 25 points, Yao Ming finished with 12 and Carl Landry came off the bench to register a career playoff-high 21 points and 10 rebounds.
However Game Two in the best-of-seven series was a turbulent affair and Fisher and Artest were both ejected while referee Joey Crawford also issued five technical fouls.
Game Three is in Houston on Friday.