LOS ANGELES -- Kobe Bryant poured in 31 points as the top-seeded Los Angeles Lakers beat the Utah Jazz 107-96 Monday to complete a 4-1 series win in their Western Conference quarter-final.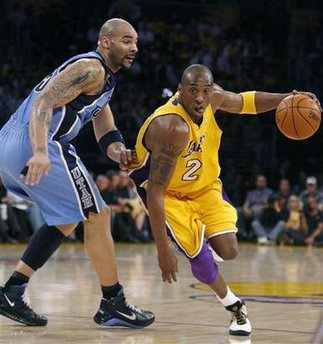 Los Angeles Lakers Kobe Bryant (R) drives against Utah Jazz Carlos Boozer during the first half of Game 5 of their NBA Western Conference quarter-final basketball playoff game in Los Angeles April 27, 2009. [Agencies] 
Although the Lakers had a commanding 21-point advantage cut to six points late in the final quarter, they held firm to book their place in the next round against either the Houston Rockets or the Portland Trail Blazers.
Related readings:


 Kobe shines as Lakers move within 1 game of series win


 Boozer leads Jazz back into Lakers series


 Bryant helps Lakers take 2-0 lead over Jazz


 Lakers cruise past Jazz in NBA playoff opener
Lamar Odom was inspirational for Los Angeles, weighing in with 26 points and 15 rebounds while Spanish forward Pau Gasol registered 17 points at a packed Staples Center.
Paul Millsap, who sparked Utah's late fightback, top-scored for the visitors with 16 points after coming off the bench, while Andrei Kirilenko and Deron Williams each contributed 14.
"We played well offensively but we played spotty defense tonight," Lakers coach Phil Jackson told reporters. "I liked our defense for the first three quarters. We broke the game open but we didn't close the door.
"They started running the ball and Millsap got going. A couple of three-point plays ... that stopped everything and we just turned the ball over a couple of times to add to it. Ten-point bursts like that are really a momentum shift."
"I'd like to congratulate Utah on their season," Jackson added. "I know it was a disappointment for them but they play hard and they play together. I thanked them for giving us a run and a good, hard series."
Odom and Trevor Ariza produced superb all-round displays early on but the Lakers also piled up several turnovers to end a fast-paced first quarter deadlocked with the Jazz at 26-26.
Tightened defense
However, the momentum steadily shifted in favor of Los Angeles as they tightened their defense.
Roared on by a capacity crowd that included Hollywood actors Leonardo DiCaprio, Will Ferrell and Cuba Gooding Jr., Bryant and his team mates built a 56-43 lead by half-time.