NEW YORK: Before his first practice on the virgin grass of the new Yankee Stadium, Andy Pettitte stood at his locker on Thursday and got a lesson on how to work the ThinkPad computer mounted in his wood-paneled cubicle. Each player has one of the gadgets to watch replays or order tickets for family.
In the stands of the $1.5 billion ballpark, which smelled of fresh paint and new leather, fans filed in past the top-priced $2,625 seats and the three exclusive restaurants to watch the practice. The April 16 home opener is expected to be sold out.
A different kind of ticket deal is playing out in Minneapolis. To draw fans to the 27-year-old Metrodome, the Twins pegged the cost of 6,500 seats in the Home Run Porch to the stock market. The price will cost $1 for every 1,000 points of the Dow Jones Industrial Average. Because the Dow closed at 7,775 on March 27, those outfield seats for Monday home games purchased through Friday will be $7.
Less than a year after the recession first began to crack the seemingly impregnable world of American professional sports, a new economic order is in place for the start of Major League Baseball season on Sunday - marked by fewer fans, rising ticket prices and likely lower player salaries.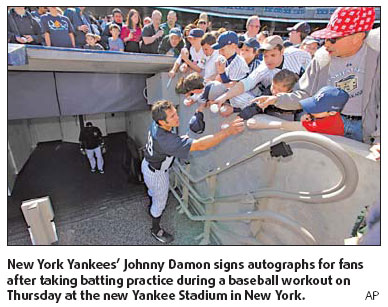 MLB is bracing for an overall attendance drop of as much as 7 percent following five straight years of 70 million-plus attendance. An Associated Press-Knowledge Networks poll this week found that fans think MLB's top problem is the cost of going to the ballpark.
Even Yankees managing general partner Hal Steinbrenner admitted that some tickets at his new stadium would be a hard sell in a financial climate that is the most uncertain since at least the deep recession of the late 1970s - and perhaps longer.
"I think if anybody in any business had known where this economy was going to go, they would have done things differently," Steinbrenner said on Thursday. "Look, there's no doubt small amounts of our tickets might be overpriced."
The Yankees set prices for their premium seats 13 months ago and sold them for $500-$2,500 as part of season tickets. The team says some of those seats remain available for individual games, when the price rises to $2,625.
The Team Marketing Report said on Thursday the average ticket price for the majors this season will be $26.64, a 5 percent increase. That is due largely to the Yankees' raising their average price by a whopping 76.3 percent to $72.97.
Player salaries likely will be down for just the third time in 20 years. Even the Yankees have trimmed salaries by $7 million despite a breathtaking spending binge on free agents in December. Teams have largely retained their sponsors, although they have had to work hard to overcome financial and car companies dropping out.
"We're in an economic downturn that's the worst since the Great Depression," MLB commissioner Bud Selig said.
America's pastime will feel the full fury of the downturn for the next six months - when it has to sell much of its tickets, advertising and sponsorships.
"We are cautiously or guardedly optimistic that we will be able to provide affordable family entertainment," said Bob DuPuy, MLB's chief operating officer.
Fans might take issue with "affordable". Almost 60 percent of respondents told the AP-Knowledge Networks poll that going to a game was more expensive than other entertainment they might consider.
Florida Marlins president David Samson was shocked by what he heard when he and other team officials tried to initiate sponsorship deals.
"Some of the people with whom we have dealt with for years are there one day and gone the next, which is something we've not seen before. And in corporate sales, relationships are everything,"he said.
"The bad news is we're spending 10 percent more time to get potentially 5 percent to 10 percent less revenue. That's not the right business model, but that's the reality we're in."
AP