GANGNEUNG - China's Wang Bingyu won the women's curling world championship Sunday with a 8-6 victory over Sweden in the final.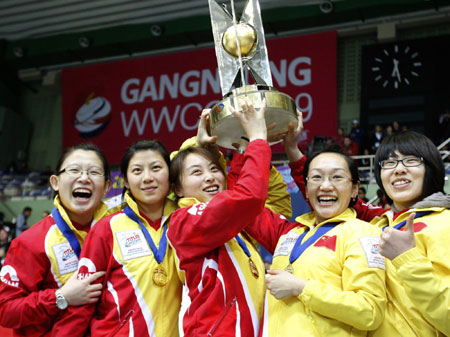 (L-R) Team China skip Wang Bingyu, third Liu Yin, second Yue Qingshuang, lead Zhou Yan and fifth Liu Jinli pose with the trophy after they won against Sweden in the finals at the 2009 World Women's Curling Championship in Gangneung, east of Seoul March 29, 2009. [Agencies]
China stretched its winning sequence to 12 in a championship which featured 12 teams, earning a first world title for an Asian team in either women's or men's curling competition.
The Chinese exchanged misses with Sweden's Anette Norberg in the first few ends before scoring the first deuce in the fourth end for a 3-1 lead.
Led by impressive Wang, who didn't know what a curling stone was 10 years ago, drew for another pair in the sixth end when the Swedes missed a runback.
Norberg closed the gap to 5-4 when she drew for two in the seventh end.
Wang got two points on measurement in the eighth end for a 7-4 lead before Sweden found its way to wrangle a deuce and closed the gap to one at the end of ninth.
Sweden had one buried behind cover in the final end until Norberg's last stone, which she elected to put into the rings as opposed to guard. Wang faced two choices: a double-takeout or a draw to the four-foot rings.
She elected the takeout, made it perfectly, and China had scored one for an historic championship win.
The victory marked the first time an Asian country - in women's or men's play - has won a curling world championship.
"Just so excited," said Wang, who celebrated the win with teammates Liu Yin, Yue Qingshuang, Zhou Yan, Liu Jinli and Canadian coach Dan Raphael. "It's so fantastic. So great."
Wang acknowledged she felt a little nervous before the final, describing the previous night's sleep as "a little bad."
"I was a little nervous and a little excited, but I just told myself, 'one more game. Don't think too much. Just play Sweden,' and we played well.
"We lost the final last year, and we really wanted to get the gold. Everybody worked hard, it was a long week."
For veteran Norberg, the silver medal was just fine.
"We were saying before coming here that if we were top four, that's OK for now and that's not our usual goal going into the worlds," she said. "And we finished in the final, so we're happy about that."
Canada's Jennifer Jones defeated China in the first game of the tournament, which was China's only blemish in 13 games.
Earlier, Denmark's Angelina Jensen defeated Jones of Canada 7-6 to win the bronze medal.