Javed Miandad is regarded as a god in his native Pakistan and he certainly has the patience of a saint when dealing with Chinese college kids.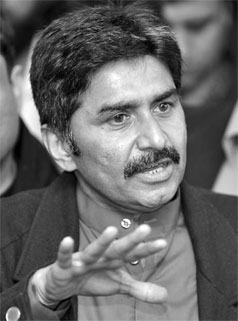 Javed Miandad. [Agencies] 
With cricket newly on the roster at next year's Asian Games in Guangzhou, the country invited the retired batsman over to give the fledgling sport a boost in the arm at a grassroots and professional level.
Hence his decision to meet the men's and women's national teams at a training camp in Chengdu yesterday.
But first off the bat were budding amateurs at Beijing's esteemed Tsinghua University, where Miandad, one of the finest sportsmen produced by his cricket-obsessed nation, spent several hours on Wednesday teaching them how to strike better, avoid being caught out lbw and other tricks of the trade.
"I have lots of confidence about the sport's future in China," Miandad told China Daily after the session. "Though it's a new sport to most of the people here and these (students) have just picked it up, they are showing both talent and potential."
The Karachi-born player said the Chinese were quick learners and this would hold them in good stead to master the game once awareness of it here begins to grow.
"China's cricket team will come up very soon. (I know this) because once I told them how to play, they picked it up so quickly," he said.
"I think China will become a strong cricketing nation very soon."
The 52-year-old played for Pakistan between 1975-1996 and had three (at-times controversial) stints coaching the national team before going on to serve as director of Pakistan's Cricket Board (PCB), a post he stepped down from last year.
He was a linchpin of Pakistan's 1992 World Cup win in Australia and ranks as the only cricketer to feature in six World Cups. He also has his name at Lord's Hall of Fame alongside compatriot Imran Khan.
Miandad, known for his flair, grit and outspoken nature, is spending a week in China promoting the sport in his newest role as the PCB's official ambassador to the country.
He said a lack of good coaches was hindering cricket's progress here and that more player-coach interaction could save years of wasted effort.
"You need a different kind of coaching...You need people to play with them and guide them and tell them, and then they will learn very well.
"If you stand right there and coach, they might need 10 years (to play the sport well). If you play with them and tell them face to face, they might just need one or two years."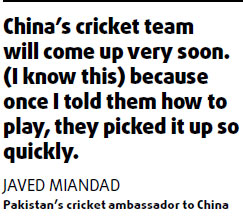 Miandad's work is part of efforts by the two countries to promote the sport after they signed a memorandum to that effect last year. The International Cricket Council (ICC) and Asian Cricket Council (ACC) have been making similar overtures since 2005.
The ACC invited another high-profile Pakistani cricketer, Rashid Khan, to train China's men's and women's cricket teams in 2007. After working with the U-15 team for four months and coaching the women's teams at the national championships, Khan said he was amazed by the passion and potential for the sport exhibited by the country's women.
"They are very tough," he told China Daily at the time. "On the physical side, they are better than Pakistan's girls. In China, girls are more keen to learn the sport than the boys."
Women's cricket has also been named a top priority by the sport's governing body in China given the team's potential to punch above their weight in relation to China's men at next year's Nov 12-27 Guangzhou Games.
"(This) needs to be our priority. We hope to put more emphasis on women's cricket and impress China, even Asia, with a good performance at the Asian Games," said Zhang Tian, in charge of the sport's development.
Higher profile
This is an issue the China Cricket Association (CCA) has been seeking to address for several years, that is, getting young Chinese boys as pumped up about claiming wickets and centuries as scoring goals or dunking basketballs.
"We are targeting students from primary school age to university level as they are the future and they are keen to discover new games," said Zhang. "We have held a number of training sessions over the past four years to get PE teachers up to scratch on the basics of coaching and umpiring.
"There are now 179 ACC/CCA Level 1 coaches and umpires here, mostly clustered in eight regions," he added, referring to Beijing, Shanghai, Guangdong, Liaoning, Chongqing, Tianjin, Shandong and Zhejiang. Some 10,000 students have benefited from the programs, he said.