PHOENIX – Phoenix center Shaquille O'Neal scored 33 points against his former team as the Suns turned back the Los Angeles Lakers 118-111 Sunday, despite 49 points from Kobe Bryant.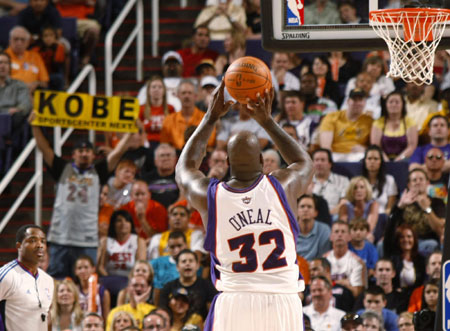 Phoenix Suns Shaquille O'Neal shoots a free throw against the Los Angeles Lakers in the third quarter during their NBA basketball game in Phoenix, Arizona, March 1, 2009. [Agencies] 
O'Neal, who once teamed with Bryant to lead the Lakers to three successive NBA championships, backed up a 45-point performance against Toronto Friday for his first consecutive 30-point games since 2004.
"It's what I do," 36-year-old O'Neal told reporters. "I've been doing it since 1992. The only time I don't play well is when I'm injured."
Lakers center Pau Gasol, who had 30 points, said the Toronto game had given O'Neal confidence.
"If Shaq is feeling well and his legs are responding and plays loose out there, he can still be a force like he's proven the last two games," Gasol said.
The win brought the Suns within a game and a half of Dallas, who played a late game, in the battle for the eighth and final playoff spot in the Western Conference.
Phoenix trail the Lakers by 13 and a half games for the top spot in the Pacific Division.
"Good win, but it's still just one win," said Alvin Gentry, who is 6-2 as Phoenix head coach.
"We have a tough trip coming up and we have to play well on that trip and just try to plug away and get back in the race."
Matt Barnes added 26 points, 10 rebounds and seven assists and Leandro Barbosa had 22 points as the Suns, who played without injured guard Steve Nash, avenged a 26-point loss to the Lakers in Los Angeles on Thursday.
Bryant, who had 13 in the fourth quarter, brought the Lakers within four points with 2:48 to play, but Barnes came up with the game's next seven points to secure the win.
"We made too many mental mistakes," Bryant said after the 96th 40-point game of his career.