MILAN - Inter Milan and Manchester United drew 0-0 Tuesday in the first leg of the Champions League's last 16.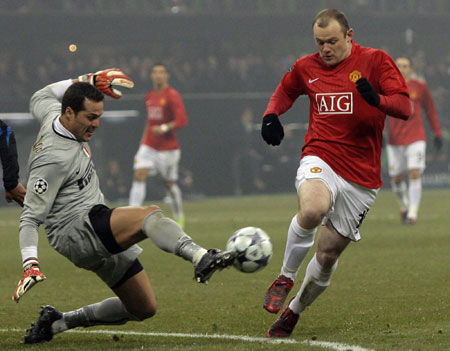 Manchester United's Wayne Rooney (R) challenges Inter Milan's goalkeeper Julio Cesar during their Champions League soccer match at San Siro stadium in Milan February 24, 2009. [Agencies]
Both sides had opportunities to score, and United will be disappointed it failed to get an away goal after letting a number of chances slip by in both halves.
Inter started apprehensively, but improved in the second half. Inter coach Jose Mourinho added extra attackers late in the match, but couldn't make a breakthrough.
Cristiano Ronaldo caused Inter goalkeeper Julio Cesar problems with a late free kick, but the defense scrambled the ball to safety.
Ryan Giggs missed the best chances of the game, while Ronaldo and Dimitar Berbatov also let solid opportunities go.
"I think that it is obviously a disappointment we haven't won the game, that's for sure," United manager Alex Ferguson said. "But in a two leg match the next one is at Old Trafford and our record there is good and we have a chance to win the match.
"In front of our own fans that's what we must we must do. Obviously the match isn't finished, but we still have a great chance to win the match."
Mourinho said he felt that the game could have been better handled by referee Luis Medina Cantalejo and was pleased to finish with a draw.
"If we have a referee that gives so much protection to the away team, we'll go to the quarterfinals," the Portuguese coach said. "Not going to Manchester behind is a result, because they had a better intensity and speed than us. Their players played well on the counter attack, but they didn't score. My team controlled them very well. It will be a very difficult second leg."
Ferguson, however, refuted Mourinho's views on the referee.
"What Jose means is he hoped he (the referee) was intimidated but he wasn't intimidated," Ferguson said. "I thought he was excellent."
Ronaldo came close to opening the scoring in the fifth minute when he reached Giggs' corner first, but his header was saved by Cesar.
Giggs then found himself in a position to score in the 22nd. Ronaldo's cross was missed by the Inter's center backs and fell to the Welshman, but Inter recovered and cleared for a corner.