PHOENIX -- Kobe Bryant scored a game-high 27 points and joined up with former Los Angeles Lakers team mate Shaquille O'Neal to lead a rampant West to a 146-119 victory over the East in the NBA's annual All-Star Game on Sunday.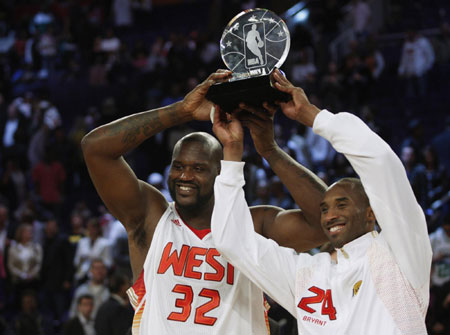 Co-winners of the MVP award, Phoenix Suns' Shaquille O'Neal (L) and Los Angeles Lakers' Kobe Bryant (R), hold up their trophy after the NBA All-Star basketball game in Phoenix, Arizona, February 15, 2009. [Agencies]
"It felt like old times. He was really looking for me," O'Neal, who now plays with the Phoenix Suns, said after scoring 17 points.
"Kobe is the best player in the league," O'Neal added.
Bryant, who shared MVP honors with O'Neal, said the West, which raced to a 34-27 first-quarter lead and broke the game open in the third quarter, came prepared to play aggressively.
"We talked about it before going out there, we had to play. We lost last year, and we had to make sure we came out there and played the game well, and came out with a win," he said.
LeBron James led the East with 20 points and paid tribute to the 36-year-old O'Neal, who may have played his last All-Star game.
"Whenever he decides to unlace his shoes man, the game will be missed without the big fellow, man," James said. "He brings showmanship, sportsmanship, all that laughter, he really brings everything to the game of basketball.
"Shaq is one of those guys you'll always look back on and wish he was still around."
Five other Western Conference players joined Bryant and O'Neal in reaching double figures.
Amare Stoudemire finished with 19 while Chris Paul provided 14 points and 14 assists. Pau Gasol, Tony Parker and Brandon Roy also had 14 points.
James shared East scoring honors with Paul Pierce and Dwayne Wade, who each had 18 points.