PHOENIX - The NBA All-Star game will see the return of the Shaquille O'Neal-Kobe Bryant pairing that once dominated league headlines, on and off the court.
Together they led the Los Angeles Lakers to three straight championships and four finals berths in five years, but that success was eventually overshadowed by the bickering that triggered their breakup.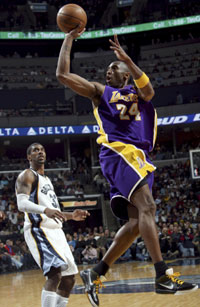 Los Angeles Lakers guard Kobe Bryant (R) shoots as Memphis Grizzlies guard O.J. Mayo (L) watches during the second half of their NBA basketball action in Memphis, Tennessee January 31, 2009. [Agencies] 
On Sunday they'll be on the same team for the first time since the 2004 NBA finals, when the Lakers were knocked off by Detroit. They traded sporadic barbs through the years after O'Neal's departure, but say they've patched things up - with O'Neal saying they were never that bad in the first place.
"That will be kind of fun to see how well they hook up together," said Lakers coach Phil Jackson, who will coach them in the Western Conference team. "I think there's no doubt about the fact they'll have a relationship. They still are very friendly."
O'Neal was chosen to 14 straight All-Star games before missing last year during an injury-plagued season. Few players match his level of popularity with fans and fellow players.
"I'm a very lucky player because I went through three different eras of the All-Star game," O'Neal said. "I went through the Mike era, where it was Mike (Jordan) and (Charles) Barkley and all those guys, and I went through my era, where it was me all the time and Kobe, and now it's the Kobe-LeBron, D-Wade era, Dwight Howard eras. So I've been lucky enough to go through all three of those transitions."
Jordan had a role to start the weekend, when the finalists for this year's Basketball Hall of Fame class were announced on Friday. The end was left for the players who have inherited his mantle as the best in the league.
Bryant and LeBron James have dominated recent All-Star games, combining for the last three MVP awards. James said the first three quarters are for fun, but, "the fourth quarter, that's when we all really start to play hard. The fourth quarter is buckle-down time.
"It's fun to go out there and compete," James said. "I love playing against the best in the world and on this stage, it's the best 24 guys in the world. I kind of rise to that occasion."
Bryant won his second trophy two years ago in Las Vegas, but will be looking to bounce back from a disappointing All-Star weekend in New Orleans last year, when he could barely play because of a torn ligament in his right pinkie finger.
James has been even better - the best scorer ever in All-Star play. His 27-point performance last year in the East's 134-128 victory raised his average through four appearances to 24.3 points, the highest among players who have played in that many games. He was MVP of that game, two years after he won it for leading a huge East rally in Houston.
"He's a special talent. There's obviously All-Stars and they're elite players, and there's those guys that are even a step above that," Cleveland coach Mike Brown said. "And when you start talking about those guys, you're talking about Kobe, and Tim (Duncan) and Michael and Magic and Bird, and 'Bron obviously fits in that category."
A Bryant-James duel would be the perfect ending, except James may have an obstacle in the form of his Cleveland coach, who was leading the East and may prefer his franchise player to save his strength for the real games.
"He may have a tough time getting MVP because I don't know if you can get MVP playing more than three minutes," Brown joked. "We'll have to see, that honor may go to Kevin Garnett. Playing 48 minutes, you can put up big numbers."
The West hammered the East 139-112 in 1995 in the most recent visit to Phoenix. The East took the first meeting 20 years earlier behind 30 points from MVP Walt Frazier.
There are plenty of potential standouts in this one, with Bryant, James, O'Neal and Allen Iverson all in the hunt for a third MVP award. Bryant, though, didn't seem interested, with bigger things to look forward to in the games that count.
"It's going to be a fun little vacation for me," Bryant said. "I'm looking forward to having some time off, getting off my legs a little bit and recharging my batteries for the second half of the season."