Former Olympic champion Liu Xiang will be fighting fit in a fortnight, according to the American doctor who in December performed surgery on the Chinese hurdler's Achilles tendon.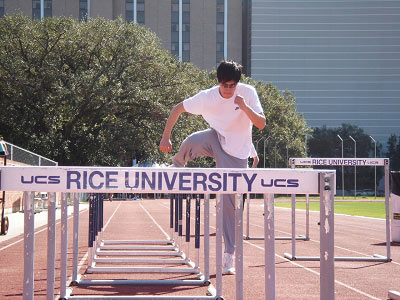 Former Olympic champion Liu Xiang attempts to clear a set of hurdles on Monday, Rice University, Houston. It's his first time to train on the track since last August. [china.com]  
Liu is recovering faster than expected and should be able to resume proper training next month, Tom Clanton told the Shanghai Morning Post on Monday.
The reigning world champion won gold at the 2004 Athens Olympics then hobbled out of the Bird's Nest in Beijing last August with an injury that left him unable to defend his crown. Several months later he flew to Houston for surgery that successfully repaired the damage.
Now his fans, and family, want him back home and back on the track.
"My son will be back home early next month," his mother Ji Fenhua told the same daily on Tuesday.
Ji, who flew back to Shanghai last week, said there was much cause for optimism.
"The latest examinations show that every step of his progress is ahead of schedule," she said.
This comes as good news for Chinese athletics, which depends on Liu for international prestige but was not expecting to see much of him in the first half of this year. Officials last month downplayed his chances of making the biannual track and field world championships in August.
"If Liu were to get back in training in April, he would still only have four months to prepare for the world championships in August, which is not enough time," said Luo Chaoyi, director of China's Athletics Administrative Center.
"Therefore, we have no specific requirement concerning Liu's result at the worlds."
On Monday, Liu made his first attempt to clear a set of hurdles since the Beijing Games. He said he missed going to practice.
"It's my first time to train on the track since August. I have spent all my training time in the gym and I missed them (hurdles) so much."
He plans to train lightly in the US then don his track spikes for competitive training when he gets home.
But coach Sun Haiping is watching carefully to avoid any more setbacks.
"According to what we have seen recently in training, he is making an amazing recovery. It's like he never had an operation," he said. "We remain cautious, however, because if we push him we'll go straight back to square one."
Sun said there is no fixed date for Liu's professional comeback.
"Whether it's the world championships or the National Games in October, how he performs at his first competition will be very important for his future career.
"Participating in the worlds is not a compulsory task for Liu. If his foot feels good, taking part will help him rebuild his confidence.
"It's important for him to say, 'I can' to himself."
China Daily