EAST RUTHERFORD -- Tim Duncan's domineering game and Matt Bonner's scoring led the San Antonio Spurs to a 13th consecutive victory over the New Jersey Nets with a 108-93 romp on Tuesday.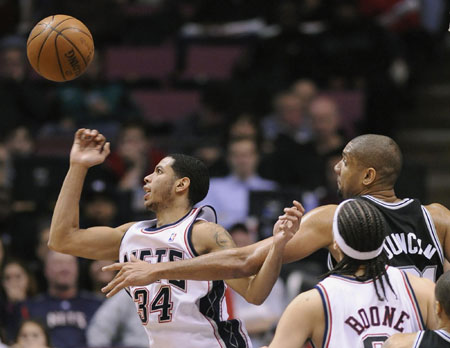 New Jersey Nets guard Devin Harris looks up for the ball after his shot was blocked by San Antonio Spurs center Tim Duncan (R) in the fourth quarter of their NBA basketball game in East Rutherford, New Jersey, February 10, 2009. [Agencies] 
Duncan provided 27 points, nine rebounds, eight assists and four blocked shots to help the Southwest Division-leading Spurs to their 10th victory in 12 games.
"He did a great job of being patient and seeing what the defense gave him," Nets center Brook Lopez told reporters.
Bonner added 22 points and Tony Parker offered 20. Bonner had 13 points in the decisive third quarter when San Antonio turned a 54-51 halftime lead into an 82-69 advantage.
"He was great," Spurs coach Gregg Popovich told reporters. "He's been playing really well at both ends of the floor. He's made our offense click over the last month."
Vince Carter, in his first game back from an elbow injury, led New Jersey with 25 points, 17 of them in the first half. Devin Harris followed with 21.
"We wanted to take him (Carter) out of the game by being more aggressive on defense and double-teaming his pick and roll ... make him get rid of the ball and make someone else beat us," Bonner told reporters.
Having Bruce Bowen guard Carter in the second half helped make a major difference, Nets coach Lawrence Frank said.
"Bowen is an elite defender," he said. "Their denials impacted us in terms of, you know, whether we're trying to feed Vince in the post and their denying the wing entry.
"(But) It's just collectively a lack of really great defensive force and losing some offensive rhythm," he said.