CARACAS -- Diego Maradona says he will not resign as the coach of Argentina's national team if his former teammate Oscar Ruggeri is not accepted as his assistant.
"I'm not going to resign. It cost me a lot to get here, so it's one-time opportunity," said Maradona at a press conference in Venezuela's capital on Tuesday. "I want to have Oscar Ruggeri at my side as a coach, but if that's not possible, I'm not going to resign."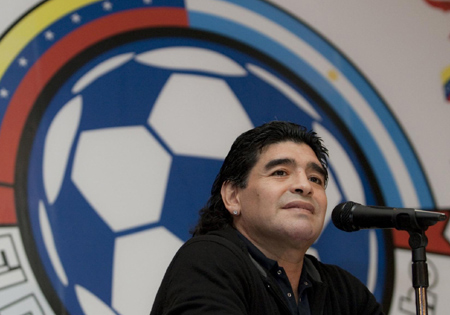 Argentina's soccer coach Diego Maradona speaks during a news conference in Caracas January 27, 2009. [Agencies]
Argentine Football Association boss Julio Grondona has said he will not give in to Maradona's push for Ruggeri as an assistant.
Ruggeri was Maradona's teammate in Argentina's triumph at the 1986 World Cup, and they also played together at the 1990 and 1994 World Cup finals.
Maradona said he hopes to meet with Venezuelan President Hugo Chavez during his visit to the country.