NEW YORK - Cleveland's LeBron James outplayed high-scoring Miami rival Dwyane Wade to help the Cavaliers beat the Heat 93-86 on Sunday for their 16th consecutive home victory.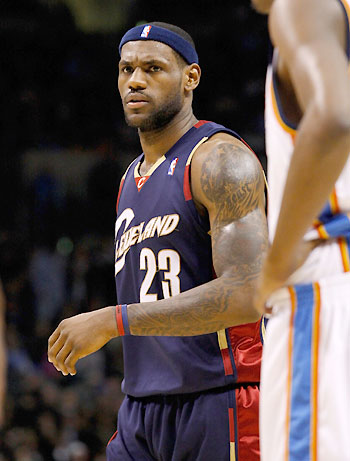 Cleveland Cavaliers forward LeBron James (L) is seen in the first half of his NBA basketball game against the Oklahoma City Thunder in Oklahoma City, Oklahoma December 21, 2008. [Agencies]
James scored 11 of his 33 points in the fourth quarter to rally the Cavaliers (26-4) from a 10-point deficit.
"You have to challenge yourself mentally to do it on both ends," James, who had six rebounds and nine assists, told reporters after applying pressure on the Heat both offensively and defensively.
"I have to do it on both ends for our team to be successful and I have no problem with that."
Wade finished with 29 points and eight assists for the Heat, who had won four successive games before Sunday's contest. He had 10 consecutive Miami points at one point in the third quarter but was slowed by James in the fourth.
"Good defensive teams make you earn all your buckets," Wade said. "That's what it came down to."
The two teams played on even terms for the first half, which ended with Cleveland ahead 44-42 behind James's 20 points.
But Miami shut down the Cavaliers in the third period, holding the hosts to 14 points while scoring 25 to lead 67-58 at quarter's end.
Related readings:


 Cavaliers win 14th straight at home


 Hawks end Cavaliers' win streak


 James leads Cavaliers to ninth win in a row


 James exits early as Cavaliers cow

The margin went to 10 points early in the final period before James helped spark an 18-2 comeback.
Mo Williams added 20 points and Ben Wallace had 14 rebounds and three blocked shots for Cleveland.
Udonis Haslem, with 15 points, and Daequan Cook, with 12, were the only other Miami players in double figures.