The head of field hockey coach Kim Chang-back became the latest to roll on Monday as China decided not to renew the South Korean's contract as top coach of the women's national team.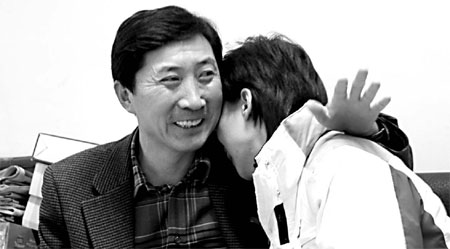 Kim Chang-back, former head coach of China's national women's field hockey team, comforts player Fu Baorong as China's sports ministry announces it will not extend his contract at a media briefing on Monday in Beijing. Zhong Ti
The move was presented as one of mutual consent while also trumpeted as part of greater efforts to reduce the country's dependence on foreign coaches.
"The team needs new ideas," Lei Jun, head of the sport's governing body, told reporters at a media briefing in Beijing on Monday. "Kim has been with the squad for nine years and three Olympics, but now it's time for change."
"We are looking for a local coach in the next four years up to the London Olympics so that we can reduce our dependence on foreigners."
During the Beijing Games in August, China employed a staggering 38 foreign coaches en route to collecting an unprecedented 51 gold medals. With Kim's exit, Frenchman Christian Bauer, who guided Zhong Man to China's first-ever Olympic gold in fencing, is the first and perhaps last of the Olympic foreign contingent to be re-signed by China.
"Now is the perfect time to say goodbye after spending nine years in China," said Kim, 53, who appeared nostalgic but upbeat at the briefing. "The Chinese sports ministry has its own plans for the future and so do I. It is a mutual decision (to part ways)."
Both sides denied that financial disputes played any role in the break-up.
"Kim has been very devoted to the team and he never haggled over money, even when the team hit hard times," Lei said.