TOKYO - Japanese schoolboy golfer Ryo Ishikawa is being protected by a battery of security guards after a bomb scare before this week's Casio World Open.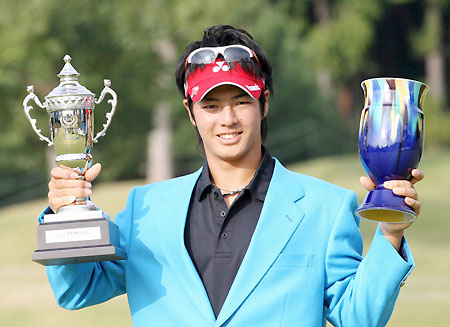 Japan's Ryo Ishikawa holds his trophies after winning the ABC Championship in Kato, western Japan, November 2, 2008. [Agencies]
The 17-year-old was surrounded by 10 bodyguards as police helicopters buzzed overhead during Thursday's first round following a phone call to a local newspaper by a man claiming to have buried mines at the course.
The threat followed a minor explosion which shattered windows in the clubhouse last week, prompting Japan Golf Tour Organisation (JGTO) officials to further tighten security.
"After the person called to say there were land mines, security and police combed the course with metal detectors before the tournament. They didn't find anything," the JGTO's Chieko Hataguchi told Reuters on Friday.
"We have around 300 security people in place now. We are carrying out bag checks on fans and we have extra security in and around the players' locker room."
Police had already deployed round-the-clock security before the bomb threat was made by the caller who demanded the November 27-30 tournament be cancelled.
Ishikawa, one of Japan's biggest celebrities, shot a two-under-par 70 despite the commotion at the Kuroshio Country Club on the southern island of Shikoku.
"While I was playing it didn't feel that strange," he told Japanese media, playing games on his mobile phone while receiving a post-round massage. "It was a little unusual maybe, but I was able to concentrate on my golf."
Police, who were still examining the 7,300-yard course with flashlights late on Wednesday, have also increased security at hotels where players are staying around the city of Kochi.
In 1999, bullets were fired at a hotel near the same golf course while the Japanese professional baseball team the Hanshin Tigers were holding a training camp.