The Chinese Football Association (CFA) denied on Monday that embattled former boss Xie Yalong would be allowed to return to his post as local media reported over the weekend.
Xie was appointed by the State General Administration of Sport (SGAS) in early 2005 in hope of reviving the national team's flagging fortunes but was replaced by caretaker vice president Nan Yong after the men's team failed to win a single match during the Aug 8-24 Beijing Olympics.
Xie, like his predecessor Yan Shiduo, rose to the position with no background in soccer management and has thus proved a magnet for critics' ire.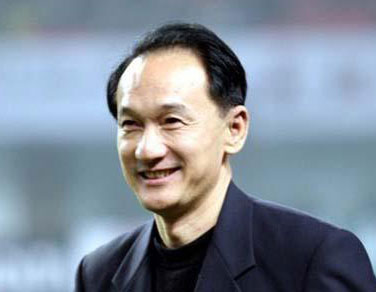 Xie Yalong [File photo] 
After the Games he was sent to a training school for civil servants in Beijing that often precedes a promotion but CFA officials were quick to downplay talk of him being readmitted to the organization's ivory tower.                                       
"I heard rumors about his return even before the reports at the weekend," an unidentified official was quoted as saying by Soccer News on Monday. "Actually it is impossible for him to come back."
Fans rallied against Xie after the media reports broke, calling for his head in online forums and demanding he be axed in favor of Nan, who brings with him 10 years' experience in the field.
They also opened "Xie Yalong, Xia Ke (Dismiss Xie Yalong)" forums on local websites in a bid to drum up more support to replace the man they have dubbed "China's soccer sinner".
Soccer News quoted another CFA source on condition of anonymity who claimed that Xie had admitted he had no chance of reclaiming his old job.
"If the speculation about Xie's return were grounded in fact, it would be impossible for the CFA to dismiss it on its official website," the second source added.
Fans' gripes center on Xie's track record of making rash decisions and constantly reshuffling head coaches, maneuvers that have led the team into a cul-de-sac and lowly world ranking of 98, one place below Zimbabwe.
His reputation hit rock bottom after the national team failed to make it into the last round of the 2010 World Cup Asian Zone qualifying round in June.
This forced the hand of the SGAS, which has struggled to find a suitable replacement given the paucity of domestic talent. With Nan's fate hanging in the balance, it said it will release its final decision on who will hold the reins on a permanent basis early next month.
Blows continue
As of yet there is scant evidence to suggest a turnaround in the fortunes of Chinese soccer.
Chinese Super League (CSL) club Wuhan Guanggu was ejected from the top-flight league last month and fined 300,000 yuan ($44,000) after an on-pitch scuffle escalated into an administrative fight.
During a match between Beijing Guoan and Wuhan Guanggu on Sept 28, Wuhan's Chinese international defender Li Weifeng became involved in a brawl with Beijing's Lu Jiang and both players were later banned for eight matches and fined 8,000 yuan ($1,170) each. When an outraged Wuhan threatened to withdraw from the league, the CFA called its bluff, canceled its remaining fixtures and ordered it to pack its bags.
Later that month, China's U-16 team was eliminated from the group stage of the Asian Championships, meaning it will not make it to the next World Championships. To make matters worse, the U-19 team also eliminated itself after only finishing fourth in the regional championships.
Augmented by match-fixing allegations and a dip in TV ratings, this run of poor results has seen sponsorship for the domestic league dry up and ticket sales plummet.
The CFA is also dealing with an embarrassing and as-yet unresolved lawsuit it lodged against its 2006 sponsor Iphox after the British-based IP telecom vendor failed to honor its contract.
Iphox agreed to an eight-year deal with the CFA in March 2006 but decided to downsize it to one year mid-season. The CFA claims Iphox has only paid 10 percent of the 6 million euros ($8.5 million) owed and is awaiting a court ruling on the case.
Meanwhile, another sponsor, Infront Sports & Media, the exclusive global marketing partner for the Chinese men's and women's national teams until the end of 2010, reportedly deducted 10 million yuan ($1.5 million) in sponsorship due to the disastrous performances of the men's senior and Olympic teams this year.