WASHINGTON - The Washington Wizards fired Eddie Jordan on Monday after a 1-10 start to the season and appointed director of player development Ed Tapscott as interim head coach.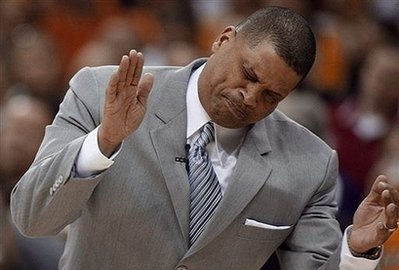 Eddie Jordan, seen here in April 2008, was fired on Monday as coach of the Washington Wizards after the National Basketball Association team's woeful 1-10 start.[Agencies] 
"At 1-10 it was an unacceptable record obviously and we felt a change needed to be made," president Ernie Grunfeld told a news conference.
"We need to do things a little bit different. These things are always very difficult especially since Eddie and I have become very good friends over the last five years."
Washington was optimistic about making a run deep into the playoffs but injuries to experienced starters Gilbert Arenas and Brendan Haywood before the season begun had Jordan scrambling to adjust.
The Wizards, off to their worst start since 1966 when the franchise was in Baltimore, are averaging 94.6 points per game while giving up 103.5.
Knicks Defeat
Washington lost to New York 122-117 on Saturday despite the Knicks having only eight players available due to trades they had made that had not been completed.
During his five-plus seasons with the Wizards, Jordan compiled a 197-224 record. The club has made the playoffs in each of the last four years but advanced past the first round only once.
Tapscott's first game will be when the Wizards host the Golden State Warriors on Tuesday.
"I want to preach accountability and unity on this team," said Tapscott, who has never been an NBA head coach. "We all have to be accountable for what we do.
"We have to get better defensively. The numbers say that, our performance says that.
"We need to play with a greater physical presence. We need to guard the rim, guard the lane and be a more physical team."