LOS ANGELES - Boston's Kevin Garnett made his long-awaited return to the court in Minnesota on Friday and led the Celtics to a 95-78 victory over the Timberwolves.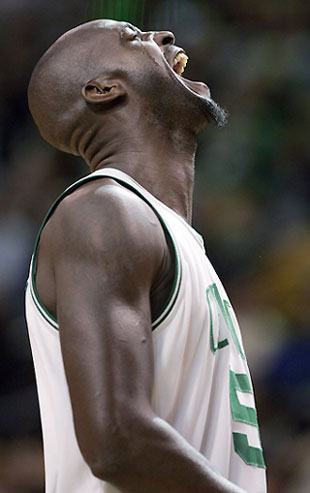 Boston Celtics forward Kevin Garnett shouts before an NBA basketball game against the Detroit Pistons in Boston, Massachusetts November 20, 2008. [Agencies]
The Celtics' All-Star power forward scored a team-high 17 points in his first game back at the Target Center since being traded from the Timberwolves to Boston prior to last season.
Garnett received an appreciative reception from the crowd in Minnesota where he spent his first 12 seasons, leading the team to the Western Conference Finals and winning an MVP Award in 2004.
Garnett was injured during the Celtics' trip to Minnesota last season and did not play, but went on to win his first NBA title in June.
The Celtics has six players scoring in double figures and improved to 12-2 on the year.
Al Jefferson led all scorers with 23 points for Minnesota, which has won just two of 11 games this season.
The young Timberwolves took a 39-36 lead into halftime but went cold in the second half. They finished 31 percent (26-for-83) from the field for the game.