TEMPE, Ariz. -- Benched running back Edgerrin James wants the Arizona Cardinals to release him, his agent said Wednesday night.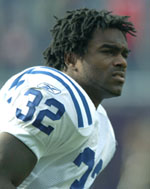 Cardinals general manager Rod Graves said the team declined to even consider such a move.
Agent Drew Rosenhaus said he would continue to talk to the Cardinals to try to persuade them to grant James his release.
"The reason is simple. Edgerrin is healthy, he's still in his prime and we know he can still play at the highest level" Rosenhaus said. "Quite frankly, he's not used to being a bench warmer and not playing and would like to go to a team where he can play."
Graves said he received a call from Rosenhaus three weeks ago after James was benched in favor of rookie Tim Hightower and didn't play a down in Arizona's 34-13 victory at St. Louis.
According to Graves, Rosenhaus asked if the team would consider releasing James "and we declined it as a consideration."
"I explained to him that we still saw Edgerrin as a valuable member of our football team," Graves said.
Rosenhaus says he asked for James' release, but Graves said, "I don't know that it was that strong."
James has three carries for 5 yards since losing his starting job.
Rosenhaus said that "there are a number of teams that we believe he would be able to contribute to and play certainly much more than he's been playing with the Cardinals."
The Cardinals, on the brink of their first division title in 33 years, want to have James on hand should Hightower get injured. The team's other running back, J.J. Arrington, is not considered an every-down player.
Releasing James, Graves said, "didn't make sense on several fronts."
Graves said he has talked to James since Rosenhaus' call.
"He said he was still fully committed to this team and he would not be a distraction," Graves said. "He's been doing everything we asked him to do."
But Rosenhaus said James still wants to be released.
"We'll continue to talk to the team," the agent said, "and hopefully encourage them to take that step and give a player of his stature and contribution to the team the respect and grant his wish."
The 30-year-old James is in his 10th NFL season, third with Arizona. He has topped 1,000 yards each of the past five seasons. He ranks first among active players and 13th overall with 11,992 yards gained. James has 385 yards in 111 carries this season with three touchdowns.