LOS ANGELES - Chauncey Billups scored a game-high 22 points to lead the Denver Nuggets to a 91-81 win over the San Antonio Spurs on Wednesday.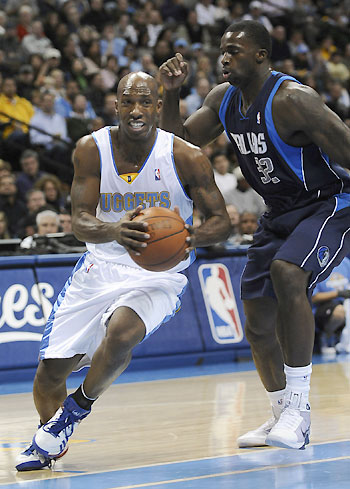 Denver Nuggets' Chauncey Billups (L) pushes past Dallas Mavericks' Brandon Bass (R) with the ball during their NBA basketball game in Denver, Colorado November 07, 2008. [Agencies]
The Nuggets have won seven of eight games since acquiring Billups in a trade with the Detroit Pistons two weeks ago.
Billups, an All-Star and NBA champion, dished out six assists and Carmelo Anthony added 21 points and nine rebounds as Denver (8-4) snapped a three-game win streak for the Spurs (5-6).
Filling the distribution role Denver lacked with the attack-minded Allen Iverson, Billups has been the perfect fit for the Nuggets averaging 18.7 points and 5.8 assists since joining the team.
He scored seven points during an 11-1 run in the third quarter which gave the Nuggets a commanding 75-54 advantage over the Spurs.
Playing without injured guards Tony Parker and Manu Ginobili, San Antonio struggled to 38 percent shooting from the field including just 2-for-17 from the 3-point line.
Rookie point guard George Hill led the Spurs with 20 points and Tim Duncan was held to 12 points and 11 rebounds.