TOKYO - Boston Red Sox pitcher Tim Wakefield was the inspiration for a 16-year-old girl who has been drafted to play for a Japanese pro baseball team.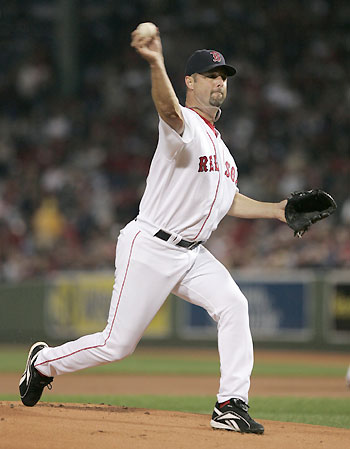 Boston Red Sox starting pitcher Tim Wakefield pitches against the Tampa Bay Rays in the first inning in Game 4 of Major League Baseball's ALCS playoff series in Boston October 14, 2008. [Agencies] 
Now, he's hoping maybe she will teach him a thing or two.
"Hope I can see her pitch one day," Wakefield said in a message he texted to the Red Sox that was relayed to The Associated Press. "I'm honored that someone wants to become me. I wish her the best of luck. Maybe I can learn something from her."
Eri Yoshida was chosen this week by the Kobe 9 Cruise in the low-budget, four-team western Japanese league, which is due to start its first season in April. She would be Japan's first female professional baseball player.
Yoshida says she was inspired to learn how to throw the knuckleball after seeing a video of Wakefield.
"It's funny that I've reached that point in my career that people want to emulate me," Wakefield said. "I'm glad I had people like the Niekros, Charlie Hough and Tom Candiotti that I could look up to. I am deeply humbled that it is me this time."
Three Hall of Famers relied on the knuckler: Hoyt Wilhelm, Phil Niekro and Jesse Haines, and the pitch also was associated with Tom Candiotti, Charlie Hough, Joe Niekro, Steve Sparks and Wilbur Wood.
Wakefield and Seattle's R.A. Dickey were the two most prominent pitchers who were primarily knucklers to appear in the major leagues last season.
It's a hard pitch to do well, and Yoshida does it with a sidearm.
Her team's manager is hoping that Yoshida's knuckler will be even harder for batters to read.
"Her sidearm knuckleballs dip and sway, and could be an effective weapon for us," Yoshihiro Nakata said at a news conference announcing Yoshida's choice in the draft.
Yoshida started playing baseball when she was in the second grade, tagging along with her elder brother, now 19, and played first base on a boy's team in junior high school. She also joined her high school baseball club, but quit because the training was too tough. Then she joined a private club.
According to media reports, Yoshida was inspired to throw knuckleballs when her father, Isamu, showed her a video of Wakefield pitching.