LOS ANGELES - The Houston Rockets capitalised on a Tracy McGrady's third-quarter scoring spree to ease away from the Phoenix Suns in a 94-82 victory on Wednesday.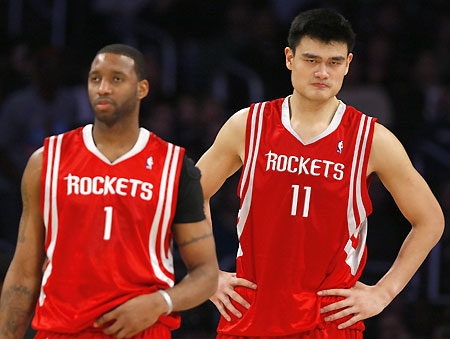 Houston Rockets' Yao Ming of China (R) and Tracy McGrady react during the second half of their NBA basketball game against the Los Angeles Lakers in Los Angeles November 9, 2008. [Agencies] 
The All-Star shooting guard had been struggling for form before the game but caught fire after the intermission, converting three 3-pointers as Houston closed the third quarter with an 18-6 run to take a 74-55 advantage.
McGrady finished the contest with a game-high 27 points, 15 of them coming in the decisive third quarter.
"I was just aggressive, they looked for me and kept coming back to me," McGrady told reporters. "We looked like a totally different team (tonight), came out and executed."
McGrady entered the game shooting just 1-for-16 from the field over his previous two games but his upturn in form helped the Rockets improve to 5-3.
The only negative of the night for the winners happened shortly before the end of the third quarter, when a skirmish between the teams resulted in the ejection of Rockets guard Rafer Alston.
Phoenix's Matt Barnes was also ejected and three additional technical fouls were issued.
NO EFFECT
"It had no effect on us. You have to keep your poise in those situations," McGrady said.
Shaquille O'Neal led the Suns with 18 points, 13 rebounds and four blocks, fairing well against fellow big man Yao Ming.
During the third quarter O'Neal surpassed Hall of Famer John Havlicek for 10th place on the NBA's all-time scoring list and now has 26,402 points for his career.
Ming, the Rockets 7ft-6in Chinese center, added 17 points for a Houston team that had four players posting double-digit scores.
Leandro Barbosa scored 18 for the Suns (6-3), who shot just 37 percent (32-for-85) on the night.
Houston's new acquisition Ron Artest continued to struggle, however, finishing with four points on 1-for-12 shooting.
Artest was traded from the Sacramento Kings to the Rockets during the offseason to form a formidable triumvirate alongside Ming and McGrady.
However, the forward has yet to find his offensive game and came into the contest shooting just 33 percent from the field on the season.