DALLAS—Down after one quarter, two and even three, the Los Angeles Lakers found themselves in an unfamiliar place.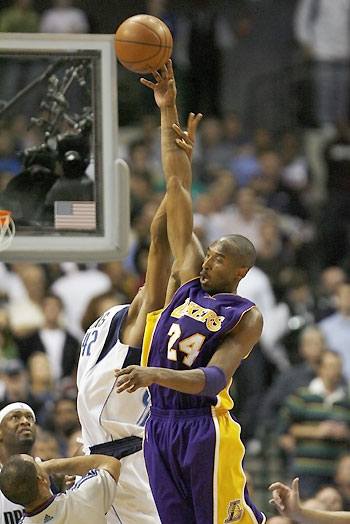 Los Angeles Lakers guard Kobe Bryant (R) keeps tips the ball away from Dallas Mavericks guard Jerry Stackhouse in a tip off during the second half of their NBA basketball game in Dallas, Texas November 11, 2008. [Agencies]
Yet even with the Dallas Mavericks getting terrific games out of Jason Kidd and Erick Dampier, Kobe Bryant and friends found a way to pull out another one.
Trevor Ariza turned an offensive rebound into an emphatic, go-ahead dunk early in the fourth quarter and added an equally emphatic block in the final minute to help the Lakers pull out a 106-99 victory over the Mavericks on Tuesday night. Los Angeles improved to 6-0, its best start since going 7-0 in 2001-02—which also was the last time the Lakers won the championship.
"Nobody panicked," said Bryant, who scored nine of his 27 points in the fourth quarter. "We just kept at it."
Despite being without Josh Howard—their second-best scorer, co-leading rebounder and a top defender—the Mavs came out with the fire star Dirk Nowitzki criticized them for lacking in their previous game, a loss to the then-winless Clippers. This time, Dallas scored a season-best 35 points in the first quarter and a season-best 60 in the first half.
However, the Mavs scored only 39 points the rest of the way, with Nowitzki failing to score after early minutes of the third quarter. That dropped them to 0-3 at home for the first time since the 1993-94 club that finished 13-69. That's not exactly the kind of change new coach Rick Carlisle was hired to make.
"You've got to be able to finish games and you've got to be able to win at home," Carlisle said. "We ran great in the first half. In the second half, they played better and we didn't get the same opportunities."
The Lakers went into the fourth quarter trailing for the first time all season. But they also were in the midst of a 30-9 spurt that would put them ahead for good. Ariza celebrated his go-ahead dunk before the ball was even through the cylinder and Carlisle was calling a timeout just as quickly.
Bryant kept the roll going, but Dallas got back to within 99-97 in the final minutes.
Nowitzki passed up a potential tying shot, giving the ball to Stackhouse, who missed. After a defensive stand, Nowitzki shot an airball on a 3-pointer. After yet another defensive stop, Nowitzki passed to Stackhouse in the corner and Ariza came flying in to swat a 3-point try out of bounds with 1 second left on the shot clock. The Mavs wound up with a shot clock violation, then Pau Gasol scored a three-point play on the other end to seal the victory.
"It was a phenomenal block" Bryant said. "He's just a tremendous athlete. Our bench was incredible. That's the kind of team we have. We pick each other up. They came in and gave us a huge boost."
Lakers coach Phil Jackson went to his bench earlier than normal and left them in once they started rallying.
Ariza scored a season-high 13 points and Lamar Odom added 12. That was a nice supplement to the 27 points from Bryant and 22 from Gasol. Gasol also had 11 rebounds. Andrew Bynum had 11 points and 10 rebounds.
"That's what we do, we try to change the pace of the game, play with high energy," Ariza said of the Lakers' second team.
Jason Terry scored 21 points and Kidd got the 101st triple-double of his career with 16 points, 11 rebounds and 10 assists. Jerry Stackhouse scored a season-high 17 points and played some tough defense on Bryant, while Dampier had 11 points and 16 rebounds, including a franchise record-tying 12 on the offensive end.
Ironically, it was Nowitzki who let Dallas down, scoring 14 points on 5-of-17 shooting.
"Everyone was in it, it was great," Nowitzki said. "If we play like that all the time, we'll have a lot more opportunities to win."
Howard missed his second straight game with a sprained left wrist. Gerald Green started in his place and keyed the strong start with eight first-quarter points before going to the locker room with a split lip. He had big dunks to open the third and fourth quarters, and finished with 17 points.
The Mavericks made only 15-of-46 shots in the second half. They also had 22 turnovers, five more than in any other game so far.
"We got the stops when we had to, but we couldn't get the ball in the basket on the other end," said Kidd, who was surprisingly aggressive looking for his shot, scoring 11 points by halftime.
This was the most points the Lakers allowed all season and it matched their slimmest margin of victory. Still, they did enough to head to New Orleans looking to get to 7-0 Wednesday night against Chris Paul and the Hornets.
"We know what we're capable of," Bryant said. "We feel better about ourselves than we did last year. It's early, but we're on the right track."