NEW YORK - The Milwaukee Bucks turned up the defensive pressure on the New York Knicks and cruised to a 94-86 win on Sunday.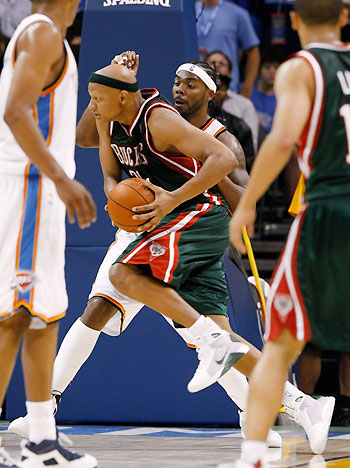 Milwaukee Bucks forward Charlie Villanueva (C) drives against Oklahoma City Thunder Chris Wilcox in the second half during their NBA basketball game in Oklahoma City, Oklahoma, October 29, 2008. [Agencies]
The Bucks (2-2) did not allow the poor-shooting Knicks (1-2) to score a point in the first three and a half minutes of the third quarter, turning a 49-45 halftime lead into a 61-45 advantage behind a 12-0 run.
Richard Jefferson scored seven of his 18 points during the run with Andrew Bogut dominating the boards.
Bogut finished with 13 points and 11 rebounds with Ramon Sessions collecting 18 points and seven rebounds, all on the defensive end. The Bucks guard also had eight assists as he filled in for the injured Luke Ridnour.
Charlie Villanueva and Michael Redd added 16 points each as all five Milwaukee starters finished in double figures.
Redd left in the third quarter with a sprained right ankle.
Quentin Richardson scored a game-high 28 points for the Knicks but forward Zach Randolph (15 points and 13 rebounds) was the only other New York starter in double figures.
"We never attacked almost until we get in a desperate situation, both offensive and defensive," Knicks coach Mike D'Antoni told reporters. "It's like we're on our heels the whole game, and we're kind of waiting for something bad to happen to us."
Knicks guard Stephon Marbury was inactive for a second consecutive game and a partisan Madison Square Garden crowd booed the poor play of the Knicks, who are tied for the bottom spot in the Atlantic Division.