PHILADELPHIA -- Chris Bosh had 27 points and 11 rebounds to help the Toronto Raptors beat the Philadelphia 76ers 95-84 in the NBA opener for both teams on Wednesday.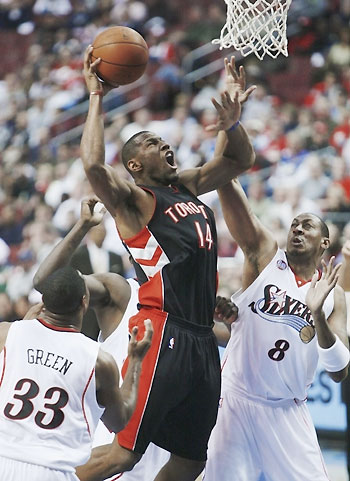 Toronto Raptors Joey Graham goes to the basket against Philadelphia 76ers Donyell Marshall (8) and Willie Green (33) during the first quarter of NBA basketball action in Philadelphia, October 29, 2008. [Agencies]
Jermaine O'Neal added 17 and Jason Kapono 15 for the Raptors.
Lou Williams scored 16 points, Andre Iguodala added 15, Elton Brand had 14 points and 13 rebounds in his Sixers debut and Samuel Dalembert pulled down 17 rebounds.
The start of the game was moved up an hour because the Philadelphia Phillies and Tampa Bay Rays were set to resume the World Series across the street at Citizens Bank Park. Many fans attending the game were wearing Phillies attire in anticipation of the city's first major professional sports championship since 1983 when Philadelphia beat the Los Angeles Lakers.