PHILADELPHIA - Boston Red Sox first baseman Kevin Youkilis and Chicago Cubs third baseman Aramis Ramirez were honoured on Sunday as winners of the Hank Aaron Award as the most outstanding offensive performers in each league.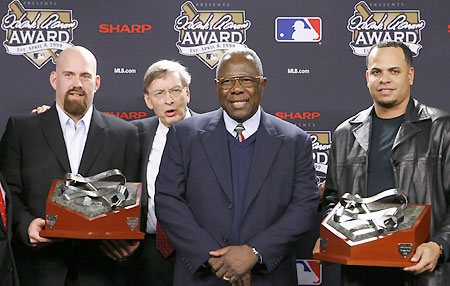 Recipients of the Hank Aaron Award pose with Hank Aaron and Major League Baseball Commissioner Bud Selig before Game 4 of Major League Baseball's World Series in Philadelphia, October 26, 2008. [Agencies]
Ramirez batted .289 with 97 runs scored, a career-high 44 doubles, 27 home runs, 111 runs batted in and a .380 on-base percentage in helping the Cubs to the National League's best record (97-64) this season.
In close-and-late situations, the 30-year-old batted .423 (30-for-71) with nine home runs and 29 RBIs, while 11 of his 27 home runs gave the Cubs the lead in games.
Youkilis set career-bests with a .312 batting average, 43 doubles, 29 home runs and 115 RBIs, and batted .374 with runners in scoring position.
Youkilis, who shifted to third base late in the season after Mike Lowell was sidelined by injury, collected 16 home runs and 62 RBI in his last 61 games of the season to help the Red Sox claim the AL wildcard.
More than 230,000 votes cast on Major League Baseball's website determined the winners.
The pair were presented with their awards by commissioner Bud Selig before Game Four of the World Series between the Philadelphia Phillies and Tampa Bay Rays.
Aaron was also at the presentation.