ST PETERSBURG, Florida - The opportunistic Tampa Bay Rays beat the Philadelphia Phillies 4-2 on Thursday to level the best-of-seven World Series at 1-1.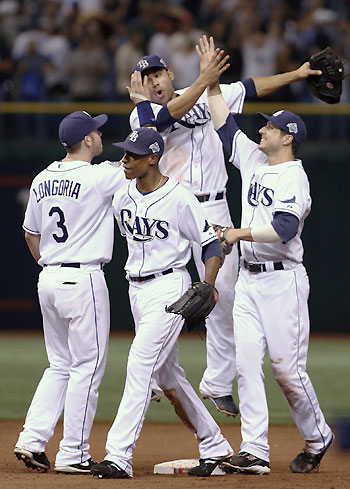 Tampa Bay Rays players (L-R) Evan Longoria, B.J. Upton (below), Carlos Pena and Rocco Baldelli celebrate their win over the Philadelphia Phillies in Game 2 of Major League Baseball's World Series in St. Petersburg, Florida, October 23, 2008. [Agencies]
The Rays, appearing in their first World Series after 10 barren years propping up the American League, cashed in on their scoring chances while the Phillies failed to hit in the clutch against Tampa Bay's gritty right-hander James Shields.
Tampa Bay scored two runs in the first inning on ground outs, and another in the fourth on a squeeze bunt by Jason Bartlett on the way to building a 4-0 lead off Phillies starter Brett Myers.
Two late runs made it close but hard-throwing rookie David Price struck out Chase Utley and then retired slugger Ryan Howard on a grounder to end it.
Philadelphia, who out-hit the Rays 9-7, stranded 11 men on base in the game and failed to score with a man on third and one out in three successive innings as Shields came up with big strikeouts to escape trouble.
"I had to battle through a lot of innings," winning pitcher Shields told reporters. "That was a big win for us."
The series now shifts to Philadelphia where the Phillies host Tampa Bay for the next three contests. Game Three is scheduled for Saturday.
NO SUPERPOWERS
The Phillies threatened in nearly every inning but floundered in the key moments -- managing only one infield single in 15 times at bat with runners in scoring position.
"I'm concerned about us hitting with guys on base," Phillies manager Charlie Manuel told reporters. "It looks like we might be trying a little too hard. We got behind early and had a hard time catching up. We didn't execute."
Shields pitched 5-2/3 innings for the win, allowing seven hits and walking two.
"I thought he made good pitches when he had to," Manuel said. "I thought he battled."
Price followed reliever Dan Wheeler to the mound and went the last 2-1/3 innings, yielding a solo homer to pinch-hitter Eric Bruntlett in the eighth and an unearned run in the ninth.
In the ninth, an error by third baseman Evan Longoria on a hard smash by Jayson Werth scored Carlos Ruiz, who led off the inning with a double down the left-field line. That made it 4-2 before Price, 23, set down Utley and Howard, the National League champions' most dangerous hitters.
Price also closed out Tampa Bay's AL Championship Series clincher against 2007 Series champion Boston Red Sox.
"Just make good pitches," Price said about his approach at the end. "He's human, just like everybody else out there. He doesn't have any superpowers. So just keep it down and make the pitcher's pitch and just get him out."
B.J. Upton, Dioner Navarro and Jason Bartlett had two hits apiece for the Rays, who are trying to become the first team to win the Series a season after registering the worst record in Major League Baseball.
The Phillies are scheduled to start 45-year-old left-hander Jamie Moyer in Game Three against Rays right-hander Matt Garza, 24.