ST. PETERSBURG, Florida -- Major League Baseball commissioner Bud Selig hopes to shorten the playoffs by two or three days next season by eliminating some off days.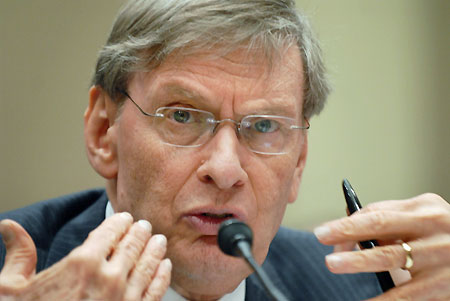 Major League Baseball Commissioner Bud Selig gestures as he testifies about performance enhancing drug use in sports before the House Commerce, Trade and Consumer Protection Committee on Capitol Hill in Washington, February 27, 2008. [Agencies]
MLB shifted the start of the World Series from Saturday to Wednesday beginning last year, adding four extra days off. Selig said he likes the Wednesday start but was concerned about weather next year, when the regular season doesn't start until April 5. World Series Game 7 would be on November 5, when the weather is chilly and risky, if the current format is kept.
"We've got to look at trying to -- maybe not having so many off days and days when you have only one game," Selig said at Tropicana Field for Game 2 of the World Series on Thursday.
Selig said playing day games on weekends was not an alternative.
"We had some afternoon games during the league championship and division series. The ratings were brutal," he said. "The ratings get better and better as the night goes on."
Even if MLB wanted to schedule day games, TV slots would be difficult if not impossible to find during the higher-rating American football season.
"The networks have commitments, and they just can't do it," he said. "There's no sense in being anything but blunt about it."