PHILADELPHIA -- Many baseball fans here would not speak the "P" word in the anxious days leading up to the city's World Series title, lest they jinx the team.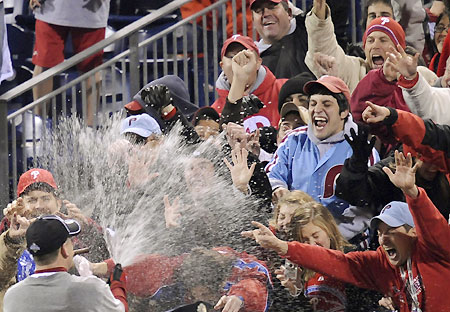 Philadelphia Phillies' Geoff Jenkins sprays fans with champagne after the Phillies defeated the Tampa Bay Rays to win Major League Baseball's World Series in Philadelphia, October 29, 2008. [Agencies] 
But now that the Philadelphia Phillies have claimed their second championship, everyone is talking about a parade.
Hundreds of thousands of people could crowd the sidewalks on Friday to cheer the city's first national sports title in 25 years. A hundred thousand more are expected to pack the baseball and football stadiums to watch the festivities on big screens and rally with the players.
"This is a bright and shining moment," Mayor Michael Nutter said. "We're going to have a great time."
But he cautioned against the scattered vandalism that marred the postgame revelry late Wednesday and early Thursday. Police reported 76 arrests and several vandalized businesses; they are also examining photos and video of the crowds to identify and arrest additional offenders.
"You can be joyous; you cannot be a jackass," Nutter said. "That kind of idiotic, destructive behavior will not be accepted in the city of Philadelphia." The Phillies parade begins downtown at noon on Friday, and is expected to take about 90 minutes to cover approximately four miles to the sports complex in South Philadelphia. Team officials said the players will attend a rally at Citizens Bank Park and make a brief appearance at Lincoln Financial Field, where the Eagles play.
Free tickets to the two stadiums were gone in less than 90 minutes after becoming available on the Phillies' Web site Thursday.
Officials stressed the importance of using public transportation Friday, though they cautioned that buses, trains and subways are likely to be operating at full capacity.
"Patience is going to be critical, and frankly so is common sense," said Rina Cutler, deputy mayor for transportation.
Fans continued the celebration on Thursday, snapping up World Series T-shirts, pennants and hats. At one downtown sporting goods outlet, at least 100 people stood in a line wrapping around the inside of the store as they waited to pay for their merchandise.
The city's two main newspapers, The Philadelphia Inquirer and Philadelphia Daily News, sold out of their first run of 350,000 copies and ended up printing another 350,000 to be available by Thursday afternoon, publisher Brian Tierney said.
The Phillies' victory over the Tampa Bay Rays also means Nutter gets to enjoy a meal of Florida seafood. He won a bet with three Tampa-area officials-- St. Petersburg Mayor Rick Baker, Clearwater Mayor Frank Hibbard and Tampa Mayor Pam Iorio--who will be sending him coconut shrimp, stone crab claws, Cuban sandwiches, key lime pie and cigars.
Had the Phillies lost, Nutter would have been sending cheesesteaks, soft pretzels and Tastykakes to Florida.
The last time a Philadelphia team won a major championship was in 1983, when the 76ers won the NBA title. The Phillies won their only other World Series in 1980.