Yao Ming feels he is 'unable to play for the national team anymore' and may quit next year, according to a report from the Shanghai-based Oriental Sports Daily on Monday that has shocked China's basketball circles.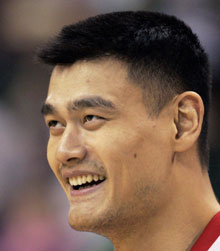 Yao Ming denied a report that he would quit from the Chinese national men's basketball team.
The report quoted an unidentified source closely associated with the NBA all-star center as saying: "Yao has expressed his idea of retiring from international competitions."
"Yao is 28 and has played for the national team in three Olympic Games. He said this team (which competed in the Beijing Games) is the strongest in history and he feels he is unable to play for it any more," the person was quoted as saying.
A chief official from China's Basketball Administrative Center, the sport's governing body, denied the report yesterday. "We do not know anything about this. He has never told us of his intention of retiring. Never," said Hu Jiashi, deputy director of the center.
Yao's agent Lu Hao also questioned the report's credibility.
"I have never heard of Yao planning to retire. Yao proved he was fully devoted to the national team in the Olympics even if he just returned from injury," said Lu. "I think this kind of report is very irresponsible."
Prior to the Beijing Games, Yao indicated it would be his final Olympics but he refrained from drawing such a close deadline regarding the end of his tenure with the national team.
"It will be my third (Olympics this year). I was a very young player and got my first taste of the Olympics in 2000 at Sydney. I played in Athens in 2004 and now this is my home country and the highest special honor in 2008. Enough, I think. Why would I need to play in London in 2012?" he said in an earlier interview with the Houston Chronicle.
Under pressure to elaborate on these comments after the final match of the Olympics, he said: "It's hard to say what will happen after four years."
Surprisingly, the latest report about Yao's international swansong has drawn support and understanding from local hoop fans.
According to a public poll by Sina.com, 75 percent of the 55,110 respondents believe Yao should take a break from international duty as he is getting tired. Only 15 percent asked him to stay on and anchor the national side.
From 1998, Yao has played in five Asian Championships, two Asian Games, three Olympics and two World Championships. At the last two Summer Games he led the team to top-eight positions in the final rankings.
Fans who support speculation of his international retirement say he should focus on winning an elusive NBA championship with the Rockets.
"Yao has contributed the best years of his career to the national team. It's hard for a near-30-year-old center to play for club and country," said one posting on Sina.com.
"Right now, it's more important for Yao to lead his NBA team to win a championship. It will be the biggest achievement for himself as well as for Chinese basketball."