China table tennis world and Olympic champion Wang Hao is yet to be punished by the national team and his club after a drunken row in which he allegedly kicked a security guard last Thursday.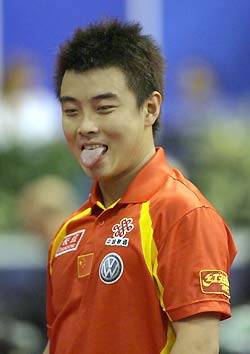 China's table tennis world and Olympic champion Wang Hao's healthy image has been dented after a drunken row with a security guard last Thursday in Beijing. [Sina.com]
In a heated debate that has raged ever since, Netizens are equally divided on whether the star athlete deserves a harsh admonishment.
"Wang should be forgiven as he is still young. He is known as an athlete of good character. It's just a single mistake," read one positive comment reflecting the sentiments of those in Wang's corner.
The other half read as broadsides at national team officials and coaches for spoiling China's "national heroes" after glittering achievements in recent years.
These comments urge harsh punishment for Wang.
In another public poll conducted by Sina.com, 40 percent of people support Wang, saying he should be forgiven as long as he acknowledges his mistake. Meanwhile, another 41 percent admitted Wang's healthy image was irreparably damaged in their eyes.
The spotlight has been shone on the 25-year-old after he allegedly assaulted a security guard last Thursday in a drunken rage.
Some accounts claim the Beijing Olympic men's team gold medal winner kicked the parking attendant he surprised him as he urinated next to a parking lot.
Beijing's Legal Mirror newspaper quoted the parking attendant as saying Wang Hao "smelled like he'd fallen into a barrel" and ran off shouting, "I'm Wang Hao and I'm the world champion."
Reports said Wang, who also won the World Cup table tennis championships in Belgium last month, apologized to his victim after being taken to a local police station.
The two sides have since reconciled after Wang agreed to personally pay 2,000 yuan ($292) to the victim.
"I was not drunk and I did not kick him. I was just verbally attacking him. It's my mistake," said Wang when he finally confronted media last Saturday.
"It's a good lesson to myself."
A report from Hong Kong media said Wang would be dropped from the national team but squad manager Huang Biao and head coach Liu Guoliang rebuffed it on Monday.
"We also made an investigation after Thursday's report. Wang just played with some friends. He was not drunk and did not kick somebody else. There was just a small bustup," said Huang.
"Young people are impulsive sometimes. Wang is a household name in China so the accident was exaggerated."
Coach Liu echoed his thoughts and said the national team would request him to make a self-examination in front of teammates.
His club Bayi, currently competing in the domestic league, also played down Wang's offensive action.