SHANGHAI: China's first professional ice hockey team, the China Sharks was founded in Shanghai on Monday and will represent China in the Asian League.
To celebrate the launch of the team Derek Eilser, head coach of China's ice hockey team, Denise Li, chief operation officer of the China National Ice Hockey Team, and Ji Junfeng, deputy director of the China Ice Hockey Association gathered around a super-sized puck.
China Sharks was born of a joint effort between the State General Administration of Sport and Silicon Valley Sports and Entertainment-USA Co Ltd.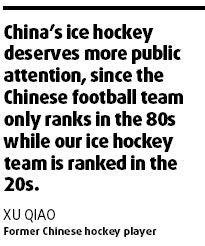 Silicon Valley Sports and Entertainment-USA Co Ltd, the largest adult ice hockey league in the US, owns three stadiums and seven ice hockey teams. Silicon Valley seeks to replay its American success in China.
Founded in 2007, the much-anticipated China Sharks team is set to combine professionalism, entertainment and fashion. The handpicked 25 players have been coached at a training base in Suihua, northeastern Heilongjiang province.
"With such a good collection of players we will build this team up," said assistant coach Steven McKenna, the North American hockey star.
Wang Chongwei, the team's youngest player, was upbeat about the future. "We will do our best in the upcoming 2008-2009 season, and hopefully we can change the stereotypical image of ice hockey among Chinese," he said.
"China's ice hockey deserves more public attention, since the Chinese soccer team only ranks in the 80s while our ice hockey team is ranked in the 20s," Xu Qiao, a former ice hockey player said.
According to Ji Junfeng, ice hockey was popular in China during the late 1980s, but became marginalized by other ball games such as basketball and soccer because it delayed professionalizing.
On Oct 11, China Sharks will take on its first opponent, Japan's Seibu Prince Rabbits.
"Our goal for this season is to be one of the top five Asian ice hockey teams," said Wang Jiang.