BUENOS AIRES - Teenager Juan Martin del Potro demolished Igor Andreev in straight sets on Sunday to give Argentina a 3-2 win over Russia and send them into a Davis Cup final against Spain.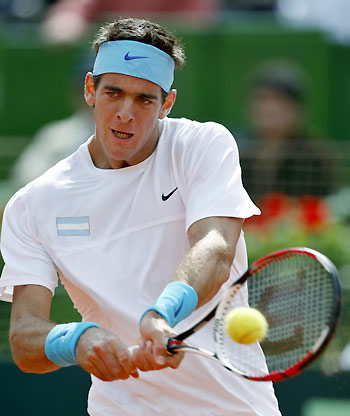 Argentina's Juan Martin del Potro hits a returns to Russia's Nikolay Davydenko during their World Group Davis Cup semi-final tennis match in Buenos Aires, September 19, 2008. [Agencies]
Del Potro, two days short of his 20th birthday and playing his first home Davis Cup tie, won 6-4 6-2 6-1 as Argentina avenged their 2006 final defeat by the same opponents.
Earlier, Nikolay Davydenko hauled the Russians back into the tie by beating a tired David Nalbandian 3-6 6-3 7-6 (7-2) 6-0.
Argentina, who led 2-0 on Friday, will host Spain in November's final after chalking up their 13th successive home win, a run stretching back to 1998.
Nalbandian's defeat, only his fourth in 20 Davis Cup singles and his first at home, left an eerie silence over the Parque Roca court, but Del Potro quickly restored the crowd's enthusiasm by winning the first set.
Andreev had no answer to Del Potro's ground strokes and, after both players lost their opening service games in the second set, Del Potro broke in the fifth game and again in the seventh when Andreev sent a forehand into the net.
Growing in confidence, Del Potro, who also beat Davydenko in straight sets on Friday, was even more dominant as he polished off the third set in only 32 minutes, finishing the tie when Andreev overhit a forehand.
MOBBED BY TEAM
Del Potro, who won four successive ATP tournaments this year, was mobbed by his team at the end.
"I never dreamt about deciding the tie because I thought we would have finished it off earlier," he told a news conference. "Everything worked out perfectly and we are in the final."
Team captain Alberto Mancini said: "He played incredible tennis. He began nervously which is logical but after that, he showed his real self."
Nalbandian, involved in a five-set doubles match on Saturday, had no complaints about his defeat.
"It was a tough game and he played very well," he said. "He won fair and square."
Nalbandian won his first set as Davydenko, who said during the Olympics that he had lost his hunger for the game, once again looked out of sorts.
But the world number six suddenly found his game, making Nalbandian chase around as he sprayed the ball to all corners of the court.
After wrapping up the second set, Davydenko went 4-1 ahead in the third and, although Nalbandian managed to pull level, Davydenko easily won the tiebreak 7-2.
The Russian then reeled off the final set in only 33 minutes,
During the third set, Davydenko protested to the umpire after Nalbandian tried to whip up the crowd.
"It's one thing for the home crowd to spontaneously get behind their team, but I don't think it's either very professional or pretty for a player to stir them up," he told a media conference through an interpreter.