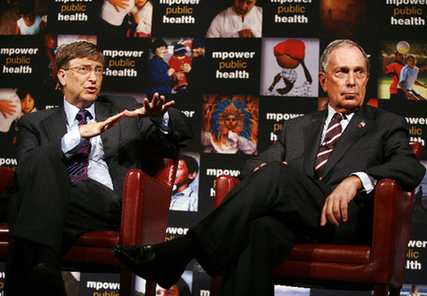 Microsoft Corp co-founder Bill Gates speaks as New York City Mayor Michael Bloomberg sits during a news conference announcing joint efforts to combat the global tobacco epidemic in New York, July 23, 2008. Bloomberg and Gates pledged an additional $375 million on Wednesday to fight what they called a global tobacco epidemic. [Agencies] 
Microsoft founder Bill Gates and New York Mayor Michael Bloomberg are pooling their piles of money to pour $375 million into a global effort to cut smoking.
The billionaire philanthropists, who have a combined worth of more than $70 billion, said Wednesday that the money will help efforts in developing countries where tobacco use is highest. There are more than 1 billion smokers worldwide.
The $250 million from Bloomberg and $125 million from Gates will support projects that raise tobacco taxes, help smokers quit, ban tobacco advertising and protect nonsmokers from exposure to smoke. It will also aid efforts to track tobacco use and better understand tobacco control strategies.
"Together we can make a clear, measurable difference -- not just for ourselves and our generation but for the generations that come after us," Bloomberg said.
Bloomberg, an ex-smoker, and Gates made the announcement together at a Manhattan news conference -- an appearance that Gates noted was his first public event since ending his full-time tenure at Microsoft Corp. to spend more time at the Bill & Melinda Gates Foundation.
Gates also hinted it might be just the first of "many things" he and Bloomberg will do together.
Bloomberg, who built his fortune from the financial information company he founded in the 1980s, is adding $250 million to an anti-smoking initiative he funded with $125 million in 2006. That money goes toward tobacco-fighting campaigns in low- and middle-income countries, most specifically China, India, Indonesia, Russia and Bangladesh. Bloomberg Philanthropies is also conducting a survey to better understand smoking in those countries.
The Gates Foundation has until now focused most of its world health dollars on fighting malaria, AIDS and other diseases. The anti-tobacco campaign represents a new direction for the Seattle-based organization, which since 2006 has also been charged with giving away billions from investor Warren Buffett.
Because of strings the Berkshire Hathaway Inc. founder attached to the money, the world's largest charitable foundation is now broadening its reach, most notably into agriculture development.
Bloomberg quit cigarettes about 30 years ago and has crusaded against smoking as a public official. In his first term he banned smoking in bars and restaurants and his health department has an aggressive, ongoing campaign to help New Yorkers kick the habit.
When Bloomberg first announced that $125 million gift, he said at the time that he believed smoking was a public health issue that was largely ignored by philanthropists. He said he hoped publicizing it would bring more attention from other major foundations.
Gates said Wednesday that $24 million of his gift will go directly toward Bloomberg's efforts that are already under way.
The remaining money will be used by his foundation to begin its own anti-tobacco work, including a focus on preventing tobacco use from increasing in Africa.
"The epidemic in Africa is not well advanced, and that means that we can catch it at an early stage," Gates said.