TAMPA, Florida - The Tampa Bay Lightning have signed veteran free agent right wing Mark Recchi to a one-year contract, the club said Tuesday.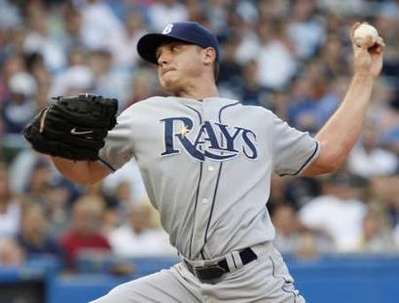 Tampa Bay Rays starting pitcher Scott Kazmir throws a pitch to the New York Yankees in the second inning of their MLB American League baseball game at Yankee Stadium in New York, July 8, 2008. [Agencies] 
A seven-times All-Star, the 40-year-old Recchi played in 72 games with the Pittsburgh Penguins and the Atlanta Thrashers last season and scored 14 goals with 34 assists.
The 19-year NHL veteran has played on two Stanley Cup champions, the Pittsburgh Penguins in 1991 and the Carolina Hurricanes in 2006.
"Mark Recchi is a guy who we will be counting on both on and off the ice," vice president of hockey operations Brian Lawton said in a statement on the team's Web site (http://lightning.nhl.com/).
"Adding him to the roster significantly increases our depth."
"As a two-time Stanley Cup champion and a great leader, having him in the locker room will help our younger players and also create a strong culture in the dressing room."
Recchi has played for six teams since his selection as the 67th overall draft choice in the 1988 draft by the Penguins.