OMAHA, Nebraska - Katie Hoff continued to steal Michael Phelps's thunder at the U.S. Olympic swimming trials on Tuesday by clocking the top times in the 200 metres medley and 200 freestyle preliminary heats.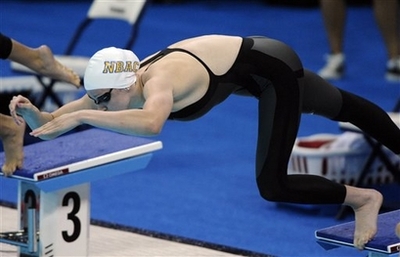 Katie Hoff leaps off the starting blocks in a women's 200-meter freestyle semifinal at the U.S. Olympic swimming trials in Omaha, Neb., Tuesday, July 1, 2008. Hoff won the semifinal. [Agencies]
While Phelps has eased into the eight day-meeting, Hoff has opened the trials by claiming a world record in the 400 individual medley and a place on the 400 freestyle team.
Hoff, who like Phelps learned to swim growing up in Baltimore, began her day by clocking the top time of one minute 57.72 seconds in the 200 free preliminary heats then closed the morning session by pipping rival Natalie Coughlin in the 200 medley with 2:12.02.
Phelps, however, looks ready to retake the spotlight from the swimmer he playfully calls his little sister.
A day after celebrating his 23rd birthday, Phelps got back to business, tackling his busiest day of the trials so far by swimming in the 200 butterfly preliminaries in the morning with the 200 freestyle final scheduled for later on Tuesday.
Phelps, who has qualified for one Olympic spot with his world record smashing swim in the 400 individual medley on Sunday, cruised to a comfortable win in his strongest event, clocking 1:55.85 to lead the 200 butterfly heats.
With only 45 minutes between the 200 butterfly semi-finals and 200 freestyle final, the six-times Olympic gold medallist looked to be conserving energy for the evening where he is expected to challenge is own world mark.
"I was just going out there and swimming, that's about all," said Phelps, who has targeted Mark Spitz's record of seven gold medals at a single summer Games at the Beijing Olympics.
With two races in less than hour, Phelps can expect his toughest test on Tuesday evening but his task was made a little easier when good friend Ryan Lochte, who chased him to a world record in the 400 individual medley on Sunday, withdrew from the 200 freestyle final.
Lochte, who swam the top time of the year in winning his 200 freestyle semi-final, pulled out of the race to concentrate on the 100 backstroke which is also on Tuesday.
Four finals are scheduled for Tuesday with Olympic spots up for grabs in the men's 200 freestyle and 200 backstroke and the women's 100 breaststroke and 100m backstroke.