NEW YORK - Point guard Derrick Rose of the University of Memphis was taken by the Chicago Bulls with the first pick of the 2008 NBA Draft on Thursday, and the Miami Heat followed with all-around forward Michael Beasley of Kansas State.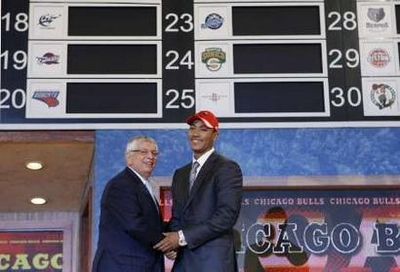 Derrick Rose, point guard out of the University of Memphis, shakes hands with NBA Commissioner David Stern after being selected as the first overall pick by the Chicago Bulls in the 2008 NBA Draft at Madison Square Garden in New York, June 26, 2008. [Agencies]
Rose averaged 14.9 points per game and 4.7 assists in leading Memphis as a freshman to the finals of the NCAA Tournament and the 6 ft 3 ins (1.91-metre) guard was thrilled to be joining his hometown NBA team.
"It feels great to be back at home," Rose told reporters.
The Heat, who auditioned some guards in the days leading up to the draft, ended the suspense by taking consensus All-American Beasley, who averaged 26.2 points and led major U.S. colleges by averaging 12.4 rebounds a game.
"Anything can happen in a draft," said Beasley, adding that he was happy about going to Miami.
"I think they are getting a great player, a hard worker and rebounder and a fun loving guy off the court. I think every team needs that."
The Minnesota Timberwolves selected University of Southern California guard O.J. Mayo with the next pick, the third successive freshman taken in the draft.
Guard Russell Westbrook of UCLA went to the Seattle SuperSonics with the fourth pick, followed on the list by college team mate Kevin Love, a 6 ft 10 ins (2.08-metre) center, who was chosen by the Memphis Grizzlies.
Danilo Gallinari of Italy became the first international player selected when he was taken by the New York Knicks with the sixth pick.
Knicks fans packed into the Garden booed the selection of the 6 ft 8 ins Italian forward, disappointed that the Knicks failed to address their need at point guard.
"It's part of the game," Gallinari said. "All the players have got to hear this. Not every time can you hear good things. It's normal."
Knicks president Donnie Walsh was happy to be able to select Gallinari, whose father, Vittorio, was a team mate of current Knicks head coach Mike D'Antoni in the Italian professional league.
"I think he's a unusual player, with his size, a great shooter, ball handler," Walsh said. "With his size, I think he can play different positions and I think he can be the kind of player who can bring a team together."