With a year and a half until the 2010 Vancouver Winter Olympics, China's figure skating pairs veterans Pang Qing and Tong Jian have already made steps toward winning their first Olympic medal.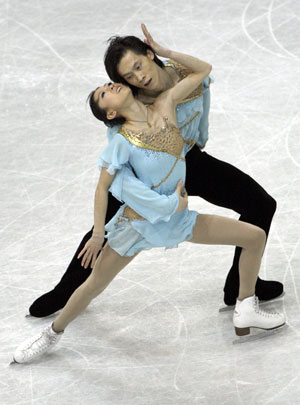 China's Pang Qing and Tong Jian perform during the pairs free skating programme at the World Figure Skating Championships in Gothenburg March 19, 2008. [Agencies] 
The two-time Olympians have some new programs ready to go and hope to impress the judges with their revamped routines.
"Since the very beginning, our graceful and classic performances moved the judges and that was our advantage. But now those judges are expecting changes," Tong said.
"If we want to move the judges again, we have to try something new to arouse their interest in us."
As they gear up for what could be their last Winter Olympics, the 29-year-old pair is hoping a reinvented style will arouse that interest and earn them a spot on the Olympic podium in 2010.
The pair recently returned from a month-long trip to the US where they trained with world-renowned choreographers Nikolai Morozov and Sarah Kawahara to develop their new routines.
Blues music will be the backdrop for their short program, while their freestyle skating music will consist of up-tempo tango songs, a contrast to their previous freestyle, which was often slower and more lyrical.
"We have listened to various types of music and finally decided to apply the styles that are a departure from our past," Tong said. "We hope the new program attracts the attention of the judges."
After three-time pairs world champions Shen Xue and Zhao Hongbo retired following the 2006 Turin Games, Pang/Tong are considered to be one of the few remaining hopes for China in pairs skating.
They reached their career peak with a fourth-place finish at the 2006 World Championships. This was followed by a period of mediocre performances for the next two seasons, due in part to a problem Pang was having with her kidney.
Besides the change in musical styles, the pair has also had to focus on improving technical elements like jumping, which was always considered a weak area.
"We have had a hard time adapting to the new music while at the same time improving our techniques," Tong said. "We will try hard to change the bad impression judges have of our jumps."
Now that they are back in Beijing, they still have to work on the transitions in their freestyle skating program and finish editing the music for the short program. "We hope to finish the whole program in two months. We still have a lot to do," Tong said.