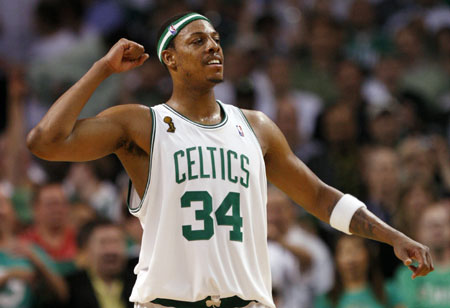 Boston Celtics Paul Pierce celebrates near the end of Game 1 of the NBA Finals basketball championship against the Los Angeles Lakers in Boston, June 5, 2008. [Agencies] 
BOSTON - The Boston Celtics rolled to a 98-88 win over the Los Angeles Lakers to claim Game One of the NBA finals on Thursday.
Kevin Garnett, playing in his first NBA final had 24 points to lead the Celtics but it was captain Paul Pierce who turned the tide, scoring 15 third-quarter points after injuring his knee and leaving the court in a wheelchair.
Boston received a scare in the third quarter when their leading scorer collided with a team mate and crumpled to the floor clutching his right knee.
Pierce had to be helped off the court and then wheeled to the dressing room but returned to finish with 22 points after scoring just three in the opening half. The Celtics can now take control of the best-of-seven series when they host Game Two on Sunday.