BOSTON - Kevin Garnett scored 33 points and Ray Allen chipped in 29 as the Boston Celtics defeated the Detroit Pistons 106-102 on Wednesday in Game 5 of the National Basketball Association semifinals.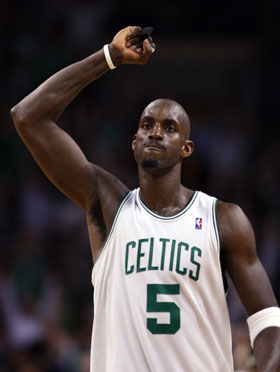 Boston Celtics Kevin Garnett reacts after scoring a basket during second quarter of Game 5 of their NBA Eastern Conference Final basketball playoff series in Boston, Massachusetts May 28, 2008. [Agencies]
Kendrick Perkins scored 18 points and had 16 rebounds and Paul Pierce added 16 points for the Celtics, who received all but three points from its starting five in taking a 3-2 lead in the best-of-seven Eastern Conference series.
"It was electric," Allen said. "We are facing a team that has been in these situations before. We are growing every night.
"It was a matter of me getting in rhythm."
The Celtics, who almost gave away a 15-point lead in the fourth in front of a crowd of 18,624, can advance to the NBA Finals Friday with a win in Game 6 at Detroit.
"We got to have great focus in our next game," Celtics coach Doc Rivers said. "They have won titles so we just have to go in there and make sure we play our game and can't get caught up in anything they are doing.
"They were grabbing, holding and bumping tonight and it didn't affect us."
Guards Chauncey Billups and Richard Hamilton led Detroit with 26 and 25 points.
Hamilton left the court with an arm injury with just under 10 seconds to play.
"We buried ourselves by getting beat on the boards," said Pistons coach Flip Saunders.
"We got to go back home and play with the same intensity as we did tonight. We didn't rebound well but we did a lot of other good things."
Allen registered a playoff-high point total and a key fourth-quarter field goal as the shot clock was winding down to help preserve the victory.
Garnett opened the fourth quarter with a jumper to give the Celtics a 15-point lead at 86-71, but the Pistons drew to within 91-85 on a 7-0 run before Rasheed Wallace drew a technical foul with 5:18 remaining to end the spurt.
"We had good focus and good energy. The third quarter was big for us," Garnett said.
Billups drained a 28-foot 3-pointer with 4:47 remaining to draw Detroit to within four 92-88 but Rajon Rondo responded with a layup to push the Boston lead back to six.
After two free throws by Garnett put Boston ahead 98-90 with 3:32 remaining, Billups was fouled by Rondo while attempting a 3-pointer and made all three to pull Detroit within five.
Pierce and Rondo each hit one-of-two from the line, giving Boston a 100-96 lead.
But Rodney Stuckey drained a 3-pointer with 1:23 remaining to draw the Pistons to within one, 100-99.
Allen drilled a jumper from the left wing as the shot clock was winding down with 1:02 remaining to give Boston a 102-99 lead.