GAINESVILLE, Florida - Chicago Bulls forward Joakim Noah was arrested on Sunday on charges of marijuana possession and having an open alcohol container.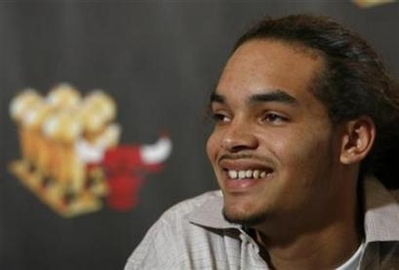 Chicago Bulls draftee Joakim Noah smiles during a news conference in Deerfield, Illinois July 2, 2007. [Agencies] 
Noah was stopped shortly before 2 am when a police officer saw him on a sidewalk carrying a plastic cup containing an "amber-colored" liquid, according to a Gainesville police report.
Authorities found the beverage was alcoholic, putting him in violation of city law that prohibits drinking alcohol on the street.
After Noah was taken to the police station, police found a marijuana cigarette in his pocket.
Sumner Hallett, public information officer for the Gainesville Police Department, said Noah cooperated with police and "bonded himself out" of jail by being fingerprinted and accepting a court date in June.
Noah, 23, could face up to six months in jail and a $500 fine on the misdemeanor charges.
A Bulls spokesman said general manager John Paxson was aware of the incident and had spoken to Noah on Sunday, but would reserve comment until more information has been gathered.
Noah, son of French tennis legend Yannick Noah and 1978 Miss Sweden Cecillia Rodhe, a sculptor in New York, became a college basketball star in the United States when he helped lead the University of Florida to consecutive national championships before being selected ninth overall in the National Basketball Association draft last June.
In his first NBA season, he played in 73 games, averaging 6.5 points, 5.6 rebounds and 1.1 assists in 21 minutes per contest.
His debut season was also marked by a handful of disciplinary incidents with his teammates voting to tack on an extra game suspension to the team punishment meted out in January for his verbal run-in with an assistant coach.