Of the many policies aimed at weakening China's dominance in table tennis, the move to restrict China's overseas paddlers is said to be the most effective yet in reshaping the sport's international power structure.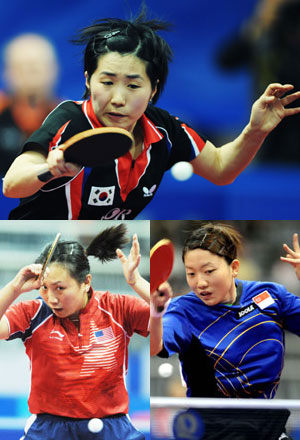 Chinese overseas players Dang Ye Seo of South Korea, Li Jiawei of Sinapore and Gao Jun of the US (closewise) are seen during the World Team Championships in Guangzhou last month. The table tennis governing body has issued a restriction on overseas paddlers. [Xinhua]
Though the new regulation, set to go into effect on September 1, may sound good on the surface, it has so far sparked a rash of controversy.
Chinese fans hate it, as seen in an online poll conducted by Sina.com in which 66 percent of participants called the move "ridiculous and useless".
But China's paddlers and officials love it. National team head coach Liu Guoliang believes it helps the sport, and world No 1 Wang Hao considers it new motivation for his already stellar career.
"Is it a good change? Yes, I am very sure," Liu said. "Some people may hate it, but I like it. As the top country in table tennis, we want to see our competitors grow.
"I always wanted to compete against stronger opponents when I was an athlete. Now I long for better rivals as a coach. You cannot imagine a sport that is played by only one country."
Table tennis officials voted during the World Team Championships in Guangzhou to restrict Chinese-born paddlers from playing for other countries at international events amid concerns that an increasing number of Chinese-born players are hogging overseas spotlights.
International Table Tennis Federation (ITTF) President Adham Sharara said the sport is unable to recruit promising players at junior levels since national teams tend to select players willing to leave China.
Players did not look too kindly on Sharara's words, but Liu thinks the president is on to something.
"With some background in China's training system, those players can win spots on overseas national teams very easily, leaving local teenage players very few chances at the international level," he said. "The situation hampers the development of ping-pong to some degree, for sure."
Chinese-born paddlers and coaches are important parts of many national teams like Hong Kong, Singapore, Japan and several European countries.
Hong Kong, which won a bronze at the Worlds, boasts a women's side made up entirely of former mainland athletes and its top two men's players are from the mainland as well.
And silver-medalist Singapore may have made history at the Worlds, but it had nothing to do with local players, as all four of its paddlers are former Chinese provincial team players.
The new ITTF rankings are packed with Chinese-born players in the men's and women's top 30. Ten Chinese players and 15 former Chinese players make up the women's top 30, leaving only five spots for the rest of the world.
"Take a look at the US team right now. You'll find all five players are from China," former US table tennis chief Tim Boogan said. "US players have fewer opportunities to compete in big events. Some of them train really hard but they won't get a chance to play against top players in the world. This is the number one problem we have."
But Sharara said the move is not against China in particular.
"We are not going against any association specifically," he said. "I understand how Chinese fans react to this restriction. I think it is like when (basketball governing body) FIBA have a new policy, everybody thinks it goes against US or NBA players, because they are the best in the world.
"But it is not the case. As the governing body of a sport, we just want to make table tennis better and stronger."
Cai Zhenhua, China's former head coach and now a senior official in the country's sports regime, said the move is just the beginning of the possible cooperation between ITTF and the Chinese Table Tennis Association.
"We will have more joint efforts after the Beijing Olympics," he said. "We always would like to share our experience in developing the sport. This is a great first step, I am sure China will be able to help the rest of the world after the Games."
Overseas resistance
China may be fully on board but current Chinese-born overseas paddlers are far from happy about the new rule.
"They are trying to erase everything we've done for the world," said Austria's No 2 Chen Weixing, a former Chinese team player. "A lot of kids try the sport for the first time after watching our game on television. It is our efforts that make them love table tennis."
Top US paddler Gao Jun slammed the move as well, calling it "discouraging".
"Players should be applauded rather than discouraged," she said. "Many Chinese players represent other countries and they have brought the skill level of the sport up."
Other international players like Austria's No 1 Werner Schlager agree with Chen and Gao as well.
"Teenage paddlers should train harder if they want to get more opportunities," he said. "Limitation is not the best way to develop a sport."
This is the third move aimed at limiting China's dominance in the sport.
The first came in 2000 after China claimed all the titles in Tianjin. The ball was made bigger, which slowed down the speed of play, one of Chinese players' deadliest weapons.
Later, when China swept the 46th World Championships in Japan in 2001 yet again, the "uncovered serve" and "11-point competition" rules were introduced, which also impacted Chinese paddlers considerably.