MILWAUKE - Michael Redd scored 32 points and made two pressure free throws late to help the Milwaukee Bucks hold off the Minnesota Timberwolves 95-92 Saturday night.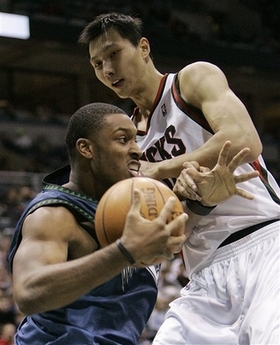 Minnesota Timberwolves center Craig Smith, left, tries to drive past Milwaukee Bucks forward Yi Jianlian during the second half of an NBA basketball game Saturday, Dec. 15, 2007, in Milwaukee. The Bucks won, 95-92. [Agencies]
Yi Jianlian, the sixth overall pick in the 2007 NBA Draft, had a career high 22 points and Mo Williams added 19 for Milwaukee which extended Minnesota's losing streak to four games.
Craig Smith scored 30 points and grabbed 10 rebounds and Al Jefferson had 23 points and 15 rebounds for the Timberwolves who have lost nine of the last 10 road games.
The Timberwolves (3-19) set the worst 22-game start in franchise history. They had tied the 1991-92 team for the worst 21-game start. That team beat the Los Angeles Lakers 93-85 its next game and finished the season at 15-67.
Trailing 84-74, Jefferson scored five points and Ryan Gomes hit a 3-pointer as Minnesota pulled to 84-82 with 1:41 to go. Yi answered with a 3-pointer that put the Bucks up by five. Smith made two free throws with 42.2 seconds left to make it 87-84.
After a Bucks' timeout, Bobby Simmons inbounded the ball to Williams who passed to Redd who drove, but then dished it back to Williams for a 3-pointer and a six-point margin.
Rashad McCants, who had 15 points, hit a 3-pointer before Redd made two free throws with 9.6 seconds left. Yi made two pressure free throws after Jefferson's driving layup. McCant's hit his last 3 for the final points, 95-92.
Redd, averaging 26.8 points in his previous four games against Minnesota, bounced back from his season-low seven point effort in the Bucks' 104-82 loss at Boston on Friday night.
Redd was 6-for-9 on 3s against Minnesota after missing all three of attempts against the Celtics, and the Bucks went a combined 4-for-19 (21.1 percent) from beyond the arc.
Redd and Williams hit consecutive 3s to push Milwaukee's lead to 80-68 with 4:38 left to play. McCants answered with two 3s for Minnesota, but Redd found Yi Jianlian cutting to the basket, fed him the ball, and Yi's driving dunk made it 84-74 with 3:19 left.
Smith scored 14 of Minnesota's 16 points, but Redd's 12 points, including his 3 that erased the Timberwolves 44-42 lead, put the Bucks ahead 66-58 after three quarters.