TORONTO - Chris Bosh returned from injury to score 21 points and lead the Toronto Raptors to a 93-80 victory over the Houston Rockets on Sunday.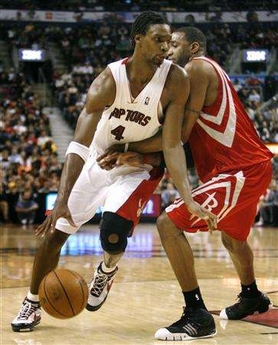 Toronto Raptors forward Chris Bosh drives to the basket against Houston Rockets guard Tracy McGrady (R) during the second half of their NBA basketball game in Toronto, December 9, 2007. [Agencies] 
Bosh, who had missed five games with a strained groin, also had 10 rebounds and four blocked shots.
"It just took me a couple minutes," Bosh, who was 1-for-7 in the first half, told reporters. "I felt I had a good hard practice, and I felt I was ready to roll."
Houston led 45-34 at the half, but the Raptors held the Rockets to 11 points in the third quarter and went on an 18-3 run to seize a 62-56 lead.
Anthony Parker had nine of his 11 points in the quarter and Bosh contributed seven.
"The thing I love about this team is we stay with it. No matter what happens, we continue to try playing defense, and keep taking those shots," Bosh said.
Toronto forward Kris Humphries then scored 10 of his 16 points in the fourth quarter and pulled down nine rebounds for the game.
Tracy McGrady led Houston with 23 points. Yao Ming added 15 points, six rebounds and three blocked shots.
*Miami coach Pat Riley won his 1,200th NBA game as Dwyane Wade had 35 points and 10 assists to help the Heat end a five-game losing streak with a 100-94 road win over the Los Angeles Clippers. Riley, who has a 1,200-642 record, became the third NBA coach to reach the milestone. Corey Maggette paced the Clippers with 24 points and 12 rebounds.
*Brandon Roy put Portland ahead for the last time with a layup as the Trail Blazers beat the Milwaukee Bucks 117-113 in overtime for their third straight win. Roy, who finished with 26 points, gave Portland a 113-112 lead with 24 seconds left. LaMarcus Aldridge added 24 points for the Trail Blazers. Mo Williams topped Milwaukee with 33.
*Chauncey Billups scored 20 points, Antonio McDyess 19 and Richard Hamilton 18 to lead the Detroit Pistons to a 104-85 home win over the Charlotte Bobcats.