PARIS - AC Milan midfielder Kaka won the Golden Ball award Sunday after helping the Italian club win the Champions League title this year with some standout performances.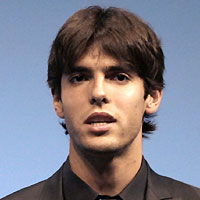 The 25-year-old Brazil international scored 10 goals in the competition with his two-goal performance at Manchester United in the semifinals being hailed as one of the best of the tournament.
"It has been a special year for me, this award underlines that," Kaka said. "The only way to win an award like this is to belong to a team which fights. I have to thank the players, the coach."
Kaka received 444 points from France Football magazine, which organized the vote. Portugal and Manchester United winger Cristiano Ronaldo was second with 277, while Argentina and FC Barcelona forward Lionel Messi finished third with 255.
Italy captain Fabio Cannavaro won the award last year after leading his team to the World Cup title in Germany, but the 52 journalists were only allowed to vote for a player from a European club.
This year's format was different, involving 96 journalists and a shortlist of 50 players worldwide.
Ivory Coast and Chelsea striker Didier Drogba was fourth with 108 points, and Italy and Milan midfielder Andrea Pirlo finished fifth with 41.
After helping Real Madrid win the Spanish league title, striker Ruud van Nistelrooy was sixth. Brazil forward Ronaldinho, the 2005 winner, dropped to 12th, and France striker Thierry Henry was 19th.