MIAMI - Sean Taylor, a star defensive player with the National Football League's Washington Redskins, died on Tuesday after being shot during what police said was a possible burglary at his home near Miami.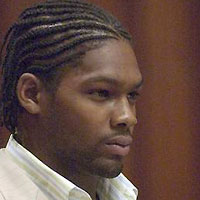 Taylor, 24, who was the Redskins' first pick in the 2004 draft, was shot in the groin area, severing his femoral artery, on Monday, police and local media said.
He was airlifted to Miami's Jackson Memorial Hospital but died from his wound after heavy blood loss, his former lawyer told television stations.
"It is with deep regret that a young man had to come to his end so soon," Taylor's father Pedro said in a statement issued in the family's name.
"Many of his fans loved him because of the way he played football. Many of his opponents feared him the way he approached the game. Others misunderstood him, many appreciated him and his family loved him," added the statement.
Redskins owner Daniel Snyder said in a statement: "This is the worst imaginable tragedy. Our thoughts and prayers are with Sean's family."
Taylor's former lawyer Richard Sharpstein told WSVN television in Miami that he was called by the football player's father, Pedro Taylor, a police chief in south Florida, and given the news just before dawn.
FAMILY GRIEF
"They're just overcome at this particular point at the loss of a son, a father, a friend and an incredible person," Sharpstein said.
He told CNN that Taylor "bled out profusely" after being shot in the thigh when an intruder burst through his bedroom door. "That's what the doctors are saying caused his death."
Miami-Dade police said they were called to Taylor's four-bedroom house in Palmetto Bay, a village south of Miami, at 1:45 a.m. on Monday by a woman -- his girlfriend -- who said Taylor had been shot. Taylor was engaged to be married and had an 18-month-old daughter, Redskins.com columnist Casey Husband wrote in an article.
A college star with the University of Miami, Taylor was taken to Jackson Memorial Hospital in a critical condition.
Family and friends had been optimistic on Monday night that he would pull through, despite the heavy blood loss.
Vinny Cerrato, the Redskins' vice president for players and personnel, told reporters outside the hospital on Monday night, "We've had positive news from the doctors."
Taylor's father said then the family was "so happy."
But before daybreak family members were seen leaving the hospital in tears.
Police said a previous burglary attempt had been reported at Taylor's house on November 18. No arrests had followed.
The hard-hitting safety had five interceptions this season but had been sidelined the last two weeks with a leg injury.
Taylor had a run-in with the law two years ago stemming from a gun-related incident.
He was charged with three felony counts of aggravated assault with a weapon and one count each of simple assault and simple battery in connection with a June 2005 incident where he was accused of waving a gun at a group of people he suspected of stealing his all-terrain vehicle.
He could have faced up to 46 years in prison.
In June 2006 he pleaded no contest to misdemeanor assault and battery charges and prosecutors dropped the more serious felony charges.