HARBIN -- In spite of staying away from national team, triple pairs skating world champion Shen Xue and Zhao Hongbo are calculating a comeback charge to the 2010 Vancouver Winter Olympic Games.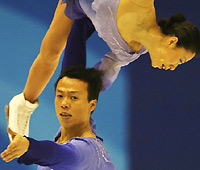 Shen and Zhao, two-time Olympic bronze medalist, gave up the national team training in March after the couple won pairs at the World Figure Skating Championships in Tokyo, picking up world tour exhibitions instead .
The pair was attending a performance in China Cup Grand Prix of figure skating here on Sunday. " We take up exhibitions rather than training in national team, but it does not mean we are ebbing away," said 34-year-old Zhao. "We will surely resume systematic training with national team before the 2010 Winter Olympics."
"Though there's no specific timetable available by now, I anticipate it would be one and a half years before the Games.
"We have been shuttling three times between China and the United States in the latest one-month time for program fabrication. Two new programs have already been there and one of them is called 'feeling good' in a style of modern dance," Zhao reflected, adding the exhibitions were even more demanding than training.
"Tour exhibitions are harder than training, so we have never stay away from the ice. In tour exhibitions, we exchange actions with spectators which enable us to skate freely and openly without considering too much on rules.
"But that does not mean it's easier at all. The exhibitions consume more energy as you have to finish your action with numerous pairs of eyes sparking at you. We can spare some time to slack off in national team training, but it's never allowed on the ice court through exhibitions," said 28-year-old Shen, telling that tour exhibitions in Japan and Canada are just instant in hand.
Zhao and Shen, who have teamed for 14 years at world-level competition, is a golden combination in China.
The duo won the first pairs' title for China in 2002 and then retained it in 2003 before incurring a string of injuries.
Zhao had been suffering from a torn Achilles' tendon which affected them at the Turin Olympics and forced them to pull out of the 2006 worlds.
This year, the pair have overcome a dismay 2006 to sweep all before them this season, winning the Cup of China, the NHK Trophy, the Grand Prix final and the Four Continents event.
After lifting the world championships title in Tokyo, Shen and Zhao left the national team. In their words, it's a temporary leave.
The pair started to ponder retirement after they finished third in Turin Winter Olympics in 2006 but an Olympic victory is always appealing for them.
The two bronze medals in Salt Lake City and Turin Olympic Games can never cover the regret of Olympic title drought for their nearly one-and-a-half decade career.