Life is full of ups and downs, and since 2000, China's No 1 female golfer Zhang Na knows that as well as anyone.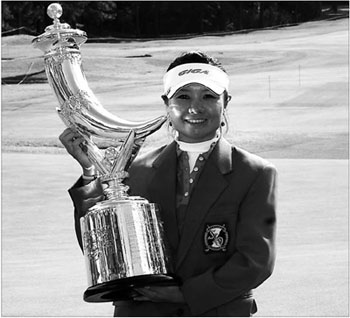 Chinese female golfer Zhang Na had great success in her debut season of the JLPGA tour and now has her eyes fixed on qualifying for the USLPGA tour in two years. [Photo courtesy of Zhang Na] 
Seven years ago, Zhang suffered one of the biggest setbacks of her life when she failed to pass the national exam - the only way to go to university in China - making it very difficult for her to find a job.
Born to a poverty-stricken family in 1981 on the outskirts of Beijing, the prospect of unemployment was almost  too much to bear. But when someone told her about a job as a caddie at a golf club, her life changed.
"I knew nothing about golf at that time. I just needed a job and tried to be independent," said Zhang. "I thought golf is like a ball and must be a sport, and I was good at javelin and shot put in high school so I decided to accept the job."
That simple and somewhat funny idea opened up another chapter in her life.
Zhang took to the new sport quickly, but it was a while before she made a name for herself.
Only when she started performing well in the JLPGA, one of the most popular LPGA tours in the world, did her career take off.
Zhang took a giant step forward in 2006 when she qualified for a spot in the 2007 JLPGA tour.
Her JLPGA debut season has been a smashing success, as she's won four tour titles and is fourth on the money list with 5,060,000 yuan ($679,851).
"She is now one of the most popular players in Japan," said her coach Wei Jingsheng. "Her skill and sportsmanship have won great support from local fans. After every tournament, people wait in line for her autograph."
"Many golfers have to spend more than a decade to achieve this kind of stardom and status. But she only took seven years. It's amazing," Wei added.
"Every time she makes a brave decision, I know it will turn into reality soon."
Tough road to success
But the road to success has not been an easy one for Zhang.
Her talents were obvious early in her career, prompting Wei to lure her to his team as quickly as he could.
But the team encountered many problems at the first, unable to even find a golf club to support it. Many players left the team due to the uncertainty of the future, but Zhang held on.
"We couldn't find club to get training. The coach took us to the mountains to practice. It was a difficult time. We had to practice our swings deep in the mountains for several months," she said.
Step by step, though, Zhang turned from an amateur champion into a JLPGA champion. Her status and influence also earned her contracts from golf clubs and other sponsors.
In the latest stage of the JLPGA, Zhang had her own caddie for the first time in her career.
"I was her coach and also the caddie before. But now, she has her own caddie and she has the ability to compete without me there," said Wei.
"It's a good reward for our hard work in the past years. We kept on training and competing even though there were so many difficulties. Zhang is tough and strong-minded. I am sure she has a bright future ahead."
Zhang still remembers people doubted her career in the JLPGA after she qualified in 2006.
"I am always aiming for a higher target," she said. "People asked me what's my aim in my JLPGA debut season. I said 'into the top-20'. Some of them thought I was just talking big.
"After three stages, I said I would win a stage soon. They still did not believe me. Now I have proved I am capable of playing better golf in the future. Let's wait and see."
Zhang is looking to simulate the feat of Swedish woman Annika Sorenstam, one of the most successful female golfers in history.
"I will be fully focused on the sport. My coach and I are making efforts to improve everything. Our target is Sorenstam," said Zhang.
Zhang and Wei have looked beyond the JLPGA and have their eyes fixed on a new start in a different field.
"Frankly speaking, the JLPGA title does not thrill me anymore. I have reached my target in the JLPGA and I feel like my job is done," Zhang said.
"We are now planning to win a ticket to compete in the USLPGA in the next two years. And I hope to win a USLPGA title before I'm 30."