China's basketball-mad media on Monday hailed the breakout NBA game of home-grown power forward Yi Jianlian, with superstar Yao Ming saying the Milwaukee Bucks rookie may one day be the better player.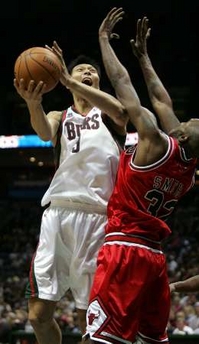 Milwaukee Bucks rookie forward Yi Jianlian (L) from China is fouled by Chicago Bulls forward Joe Smith (32) as he attempts to shoot in the second quarter during NBA action in Milwaukee, Wisconsin November 3, 2007. Yi made the two free throws he was awarded. [Agencies] 
Yi contributed 16 points and eight rebounds in his first NBA game to be nationally televised in China, a 78-72 win over the Chicago Bulls broadcast Sunday morning in Beijing.
Chinese television said the game was watched by up to 100 million viewers here.
As a result, the game between Yao's Houston Rockets and the Portland Trailblazers was relegated to regional broadcasts in China, leaving fans switching between channels during the two simultaneous contests.
"If you compare us in our third NBA games, you will see that Yi's statistics are far better than mine," Yao told Monday's Titan Sports Weekly, which ran a front-page photo of the 20-year-old Yi.
"I hope he gets better and better and will be able play at a high level."
Yi scored nine points but fouled out in his first NBA game last week and only scored two points in his second, both losses.
But his performance against the Bulls could ramp up the hype ahead of a November 9 match-up between the Rockets and Bucks, the first head-to-head clash featuring China's only two players in the world's top hoops league.
"The first thing I did after our game was to ask the Chinese journalists in the locker room how many points Yi scored," Yao said after his 21 point, 12 rebound performance in a win against Portland.
"When Yi plays well, I'm very happy."
Video highlights of Yi's game were repeated Sunday and Monday on Chinese television, while the rookie also graced the front page of Basketball Pioneers, superimposed over a "Milwaukyi" skyline with the headline "This is my city."
The paper documented nearly every move that Yi made during the game, with basketball experts also praising the rookie for a strong defensive effort.
"Yi was right to choose to play for the Bucks because Milwaukee values Yi and has made him a starter," the paper said in an editorial.
"Milwaukee was right to choose Yi because only after three games Yi has proven that he is a potentially valuable player."