SALT LAKE CITY - Tracy McGrady scored 47 points and the Houston Rockets got a little revenge for last season's opening-round playoff loss by beating the Utah Jazz 106-95 Thursday night.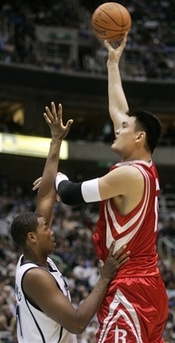 Houston Rockets Yao Ming, right, of China, is fouled by Utah Jazz center Jarron Collins as he shoots during the second quarter of the NBA basketball game Thursday, Nov. 1, 2007, in Salt Lake City. [Agencies] 
Mike James added 15 points, two more than the Jazz reserves combined and Chuck Hayes had 13 rebounds for the Rockets, who improved to 2-0 under new coach Rick Adelman and have yet to play a home game this season.
Carlos Boozer had 30 points and 16 rebounds, and Mehmet Okur finished with 16 points and 10 boards, but after dominating the first quarter the Jazz tapered off in the second and never recovered.
Deron Williams had 18 points and 13 rebounds, and Ronnie Brewer scored 13 points for the Jazz, who led by 12 in the first quarter before McGrady took over the game.
McGrady seemed intent on avenging another first-round knockout in the playoffs, as the Jazz rallied from a 2-0 series deficit and won the series in seven games. Even with Yao Ming on the bench with foul trouble and the Jazz knowing very well who was going to be getting the ball, Utah couldn't stop McGrady.
Inside, outside or at the foul line, McGrady carried the Rockets. He was 17-for-27 from the floor and 11-for-14 from the line and added four assists.
The Rockets forced 20 turnovers while committing just 12, and the Jazz didn't help themselves any by going 20-for-29 from the foul line.
Every time the Jazz made a run in the second half, McGrady stopped it. Okur hit a short jumper to get the Jazz within 89-82, but McGrady answered with a 3-pointer and did teammate Dikembe Mutombo's finger wag while backpedaling on defense. The "no, no, no" gesture seemed appropriate because the Jazz could not stop McGrady when they needed to all night.
It also fired up the Jazz, but not quite enough. Utah closed within five twice late in the fourth quarter, but no closer.
After Boozer cut the lead to 96-91, McGrady hit two free throws with 2:53 remaining, then Yao added a layup that cooled off Utah's comeback and quieted the fans in Utah's home debut.
Yao finished with 11 points and seven rebounds.